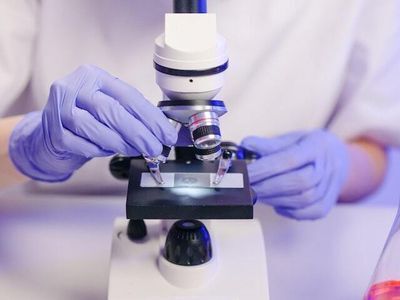 July 12, 2023
Vertex Pharmaceuticals is a company renowned for its life-changing portfolio of cystic fibrosis (CF) therapies and its increasing investment in type 1 diabetes. Among the many companies JDCA tracks, Vertex may very well be the best positioned to deliver a Practical Cure in the next 15 years.
 
Vertex has come a long way since its inception. Although CF continues to be its primary focus, the company has branched out considerably. On a mission to develop innovative medicines that improve the lives of those living with chronic diseases, Vertex has extended its research and development pipeline to include over eight different and unrelated illnesses—and with Vertex's acquisition of Semma Therapeutics in 2019, dove headfirst into T1D.
 
At first glance, Vertex appears to be making a scattered batch of bold acquisitions. From Duchenne Muscular Dystrophy mutations to Hepatitis C, acquired companies are wide-ranging in their target markets, leaving question as to whether Vertex Pharmaceuticals can fully provide the attention each cause deserves and requires to thrive. Upon closer examination, however, Vertex has demonstrated significant dedication to its various branches and, most importantly for us, has put forth an undeniable focus toward T1D.
 
Early stages of the first clinical trial with T1D patients showed initial promise. Results shared at the ADA conference last week indicated that two of the six patients in the first human trial were insulin independent after 12 months. This is the first time stem cells developed in a laboratory setting have been proven to be effective in human beings. While we would hope that all six patients attained insulin independence, this is still very much a step in the right direction.
 
That said, there is still a long way to go before it is a Functional Cure. This first trial requires patients to take immunosuppressant drugs to stop the body's autoimmune attack on the cells. This type of immunosuppression reduces the body's immune system in general, making it vulnerable to a wide range of other conditions. Another less invasive way of protecting the cells must be found, and Vertex appears to be the most promising candidate for this feat.
Journey into T1D: Mighty and Strategic Acquisitions
September 2019:
Vertex Buys Semma Therapeutics, the Most Advanced Stem Cell Company on the Market
In September 2019, Vertex Pharmaceuticals announced its $950 million acquisition of Semma Therapeutics, one of the most advanced companies working toward a solution for a sustainable and scalable supply of insulin-producing cells. This investment was highly strategic and marked Vertex's first venture into T1D.

The acquisition allowed Vertex access to Semma's resources and intellectual property, namely:
The ability to produce large quantities of functional insulin-producing beta cells from an embryonic cell line.

A novel encapsulation device that hopes to protect implanted cells from the body's autoimmune attack.
July 2022: Vertex Buys ViaCyte, its Number #1 Stem Cell Competitor
In July 2022, Vertex Announced a $320 million acquisition of ViaCyte, a privately owned biotech company that was Vertex's main source of competition. ViaCyte was also capable of creating insulin-producing cells. This acquisition gained access to:
PEC-Direct: an implantable device infused with ViaCyte's pancreatic progenitor cells that fully develop once inside the body.

PEC-Encap: a device in which ViaCyte cells are protected from immune rejection by a semi-permeable membrane that allows insulin into the body and prevents aggressive T-cells from attacking.

PEC-QT: A line of insulin-producing cells modified by CRISPR Cas9 gene-editing technology to evade the immune system.
March 2023:
Vertex Reaches Deal with CRISPR Therapeutics to Create Autoimmune-Resistant Cells
In addition to these investments, Vertex inherited from ViaCyte a collaboration with CRISPR Therapeutics that began four years prior, focusing on the development of gene-edited allogeneic stem cell-derived therapies made possible by CRISPR's novel gene-editing technology. It is hoped that CRISPR may provide the cells with protection from autoimmune attack.
 
This is not Vertex's first agreement with CRISPR. Vertex has been in collaboration and entering into licensing agreements with CRISPR since 2015 on treatments for sickle cell disease, beta thalassemia, cystic fibrosis, and Duchenne muscular dystrophy.
 
On March 27th of this year, Vertex and CRISPR announced an additional $100 million non-exclusive licensing agreement for the use of CRISPR Therapeutics' gene editing tech to accelerate Vertex's preclinical development of cell therapies for T1D.
 
June 2023:
Vertex Deal with Lonza to Build Cell-Supply Factory
The success of an eventual Practical Cure for type 1 diabetes that utilizes stem cells will require a consistent and large supply at a commercial level. This new agreement with Lonza, a world-class manufacturing organization, is to build a facility that will one day pump out high-quality insulin-producing cells at scale.

This facility will start construction later this year in Portsmouth, New Hampshire, spanning more than 130,000 square feet. In a news release presented by Vertex, Reshma Kewalramani, M.D., CEO and President of Vertex stated,
"Establishing this strategic partnership with Lonza, a world-class manufacturing organization, is a critical milestone in this journey and underscores our long-term commitment to patients with T1D."

Vertex Announces Two Patients of VX-880 Are Insulin Independent at 12 Months
VX-880
Pre-treatment: all six patients dosed in the phase 1/2 clinical trial began with impaired hypoglycemic awareness, were unable to produce their own insulin, and required an average of 34.0 units of insulin every day.

Post-treatment: All six patients were able to produce their own insulin, demonstrated improved blood-sugar levels and time-in-range on CGMs, and achieved either complete or partial insulin independence. All patients after 90 days reported no severe hypoglycemic events.

Two patients were insulin independent after 12 months, spending over 95% of their time-in-range. Patient 1 had an HbA1c level of 5.3% (8.6% pre-treatment) at month 21. Patient B had an HbA1c of 6.0% (7.6% pre-treatment) at month 12.

Three patients in part B received full doses as a single infusion and are producing their own insulin, showing reduced HbA1c, improved time-in-range, and reduced daily external insulin needs.
Current Program Breakdown: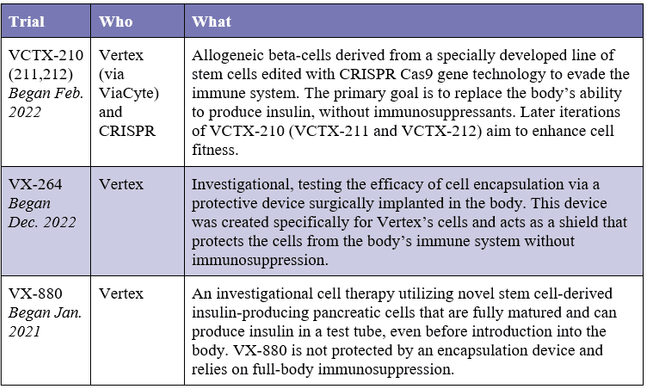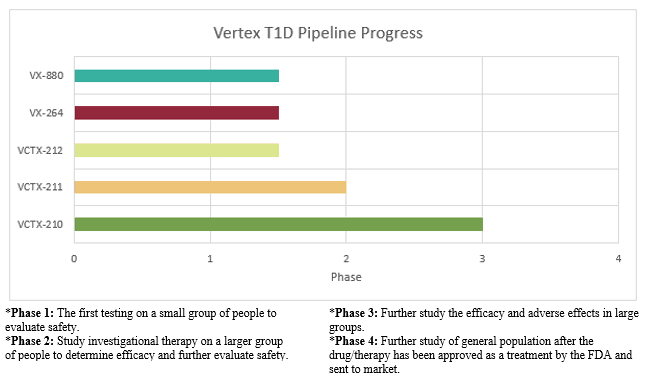 Brief Financial Overlook:
Vertex is a commercially strong company with surprisingly deep pockets. Total revenue for 2022 was $8.9 billion, an 18% increase from 2021. Net income was $3.3 billion, a staggering 42% increase from the previous year.
 
All of Vertex's product revenue is derived from the sale of medications for the treatment of cystic fibrosis. They have four marketed CF treatments to date with more in the early stages of development. Without these CF drugs providing the company's primary and substantial form of income, other avenues of research and development would not exist.
 
However, it is clear that Vertex's business strategy is to make a few big bets in other, related fields. Annual financial reports do not address how much money was allocated to individual pipeline projects; therefore, it is not known exactly how much went to T1D. That being said, research and development expenses were attributed specifically to advancement in programs for cystic fibrosis, pain management, and T1D.
Conclusion:
We in the T1D community are fortunate that a company with the financial and entrepreneurial strength of Vertex has made a material commitment to T1D. We are doubly fortunate that their commitment is toward a true Functional Cure, and that they seem committed to pursuing this via multiple pathways.

The road to finding a cure for type 1 diabetes is long and expensive, and there is still a ways to go with many hurdles to overcome. Luckily, it appears Vertex has an appetite for the challenge, and is in it for the long haul. We continue to believe that, as of today, they are the most likely candidate to bring a Practical Cure to market in the next 15 years, and we will keep you informed as their story unfolds.