"Insulin is not a cure."
– Dr. Fredrick Banting's closing remarks to his 1925 Nobel Lecture
A Practical Cure for T1D is determined by people living with T1D today. Any project that can offer freedom from the worries and 24-hour per day management routines associated with the disease within our lifetimes is considered.
A Practical Cure for T1D borrows the spirit of the "functional cure" for HIV. While scientists struggled for years to figure out how to remove all traces of the virus from the body, patients suffered from the debilitating and deadly complications of the disease.
In response, researchers shifted focus to a functional cure for HIV. Instead of eradicating the virus, the functional cure aimed to suppress viral activity to levels where it would not cause the body any harm without the ongoing use of drugs.
Rather than being determined by scientists, the clinical requirements of a T1D Practical Cure are determined by surveys of people living with T1D.
Practical Cure projects are only those which have a current human trial active in the FDA registry. Because the FDA approval process generally takes 15 years from the start of a human trial, current, active trials have the best chance to be available for people living with the disease today.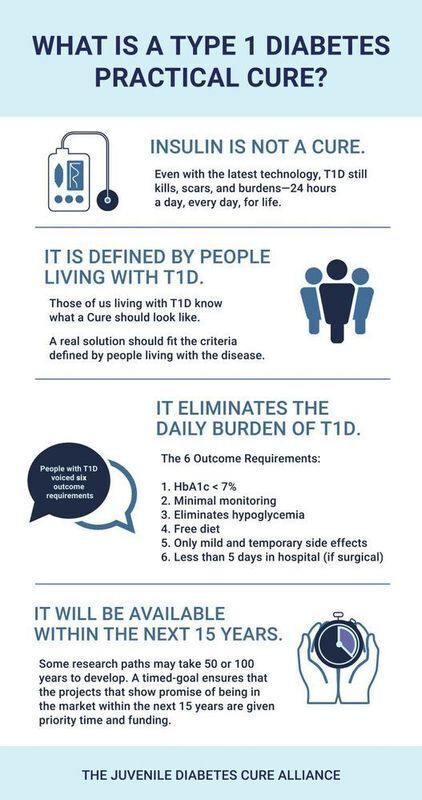 A PRACTICAL CURE FOR T1D
Definition: Any solution which delivers a near-normal lifestyle for people living with established Type 1 Diabetes
Timing: Available in the next 15 years.
---
Clinical Requirements Needed to be a Practical Cure for T1D
HBA1C < 7% and/or > 75% Time in Range (70-180mg/dl)
Only mild and temporary side-effects (no long-term side effects).
If a device/technological, small enough to generally forget you are wearing it.
Less than 5 days in Hospital (if surgical)
Minimal monitoring
Free diet
Eliminate hypos
---