October 4, 2022
Each year the type one diabetes community joins forces in cities all over the United States to participate in walks, rides, and other events to raise funds for T1D nonprofits. These events are vital to the T1D cause, providing not just an opportunity to raise money, but also a chance to gather together with a common goal of improving the lives of those battling the challenges of T1D. 
These events are key for raising both awareness and large amounts of annual revenue for the organizations. To maximize donations, advertising for these events tends to focus on promises with universal appeal. For diabetes nonprofits, this amounts to promotional materials that promise the event proceeds will be used to fund cure research. 
This is the 11th annual report of advertising messaging used by JDRF and the ADA to promote national fundraising events. In conducting this analysis, the JDCA reviewed each event on both organizations' 2022 event calendars. The JDCA found that, in total, JDRF and the ADA advertised a total of 193 national events, primarily in the form of walks, rides and galas. 
The key findings of this analysis are as follows: 
Nearly all of JDRF's and the ADA's event advertising promises that donations will be used to fund cure research. 92% of JDRF fundraising events and 91% of the ADA fundraising events feature the promise to fund cure research as the main message (see Appendix A). This is in line with a decade-long trend (see Appendix B).  A cure for T1D is a strong lure for the community, with nearly all donors surveyed by the JDCA placing cure research as their highest funding priority. 
 
Despite the cure funding commitment in marketing materials, only a small portion of revenue is actually allocated to T1D research funding. In FY2021, only 18% of JDRF's annual revenue was allocated to T1D research, and 10% of the ADA's revenue was marked for T1D research in FY2020 (see Appendix A). Both organizations used most of the money raised for non-research activities, such as education, advocacy, and salaries.
 
There is a major misalignment. Donors walk, ride, and fundraise with the expectation that proceeds raised will be used primarily to fund T1D cure research. Three out of four donors say they are less likely to donate after finding out the amount JDRF and the ADA spend on cure research. 
Conclusion
After the challenges of holding fundraising events in the past couple years, 2022 is seeing some recovery with the ADA and JDRF reporting more national fundraising events than in recent years. With donor involvement once again on the rise, and with an opportunity to push the reset button, NOW is the time for both organizations to better match the promise of event marketing with the actual use of the funds. What better time to double-down on cure research?
 
Appendix A: Fundraising Cure Messaging Compared to Allocation of Funds for Cure Research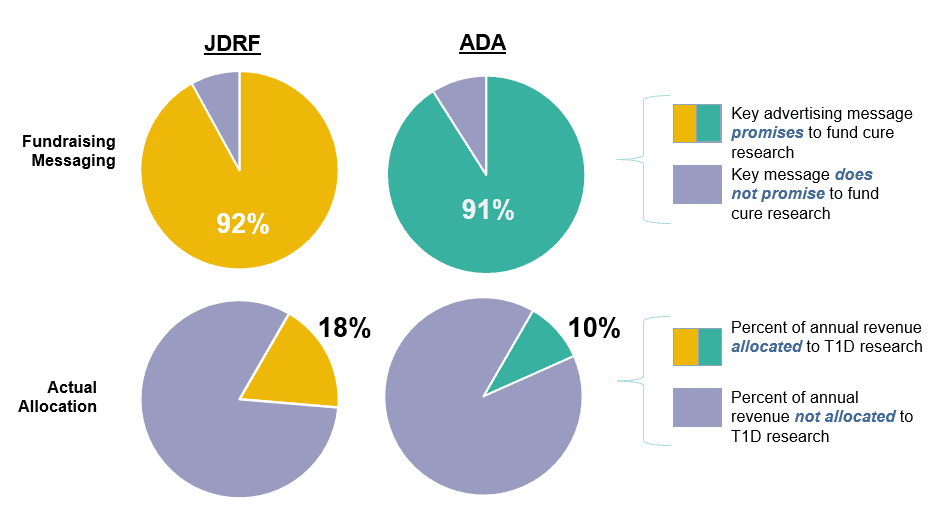 Appendix B: Percentage of Events That Use Cure Messaging, 11-Year Trend