This report will provide an overview of the Leona M. and Harry B. Helmsley Charitable Trust. The Helmsley Trust is a private foundation established by real-estate mogul Leona Helmsley that began allocating grants to charitable projects in 2008.

The Helmsley Trust has routinely chosen to prioritize T1D since 2009. In this time, the Trust has allocated an average of $50 million per year to T1D grants. In 2019, the Trust awarded $51.5M to T1D grants. See Figure 1. As a private foundation, the Helmsley Trust can invest in any philanthropic area chosen by its trustees; the T1D community is deeply fortunate for Helmsley's ongoing investment in T1D research.
Figure 1: Helmsley T1D Spending by Year (Millions)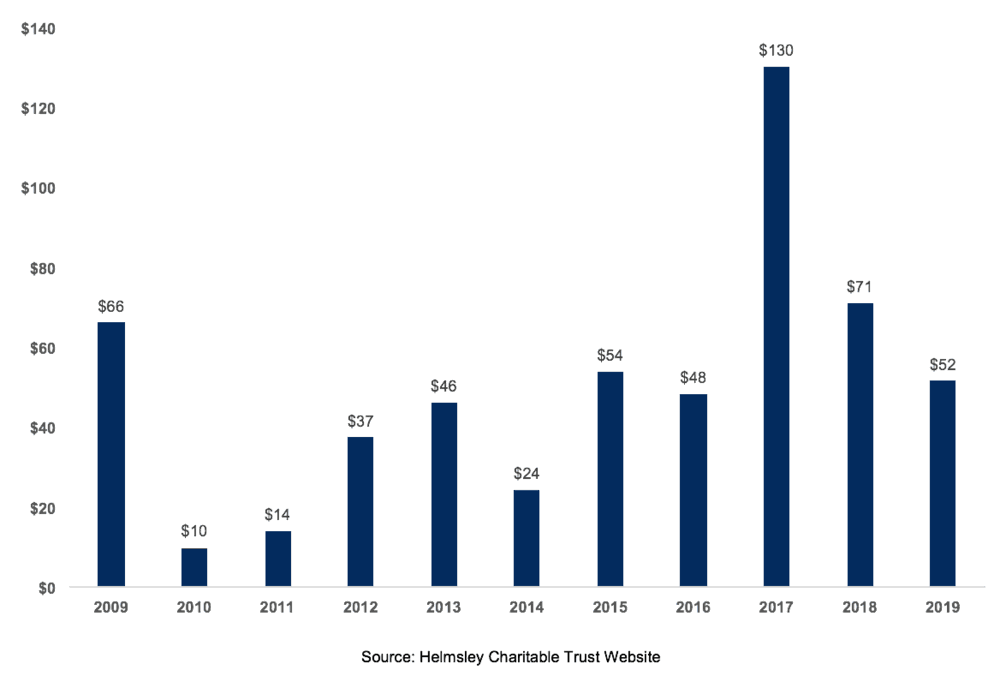 In preparing this report, the JDCA individually reviewed all of Helmsley's T1D grants for Calendar Year 2019 and its most recent financial statements. (Sources: Trust website and 990 financial statements)

2019 by the numbers:
$6 billion: Helmsley Trust's total assets.
$307 million: Total amount of funding granted by the Helmsley Trust in 2019
6 principal programs, one of which is T1D.
$52 million given to T1D research and programs. This number is consistent with prior years (See Figure 2)
41 T1D research grants:

21 grants to 'Prevent and Delay T1D' ($25 million)
16 grants to 'Improve Outcomes for People with T1D' ($24 million)
4 miscellaneous grants ($3 million)
Figure 2: T1D Spending Breakdown (Millions)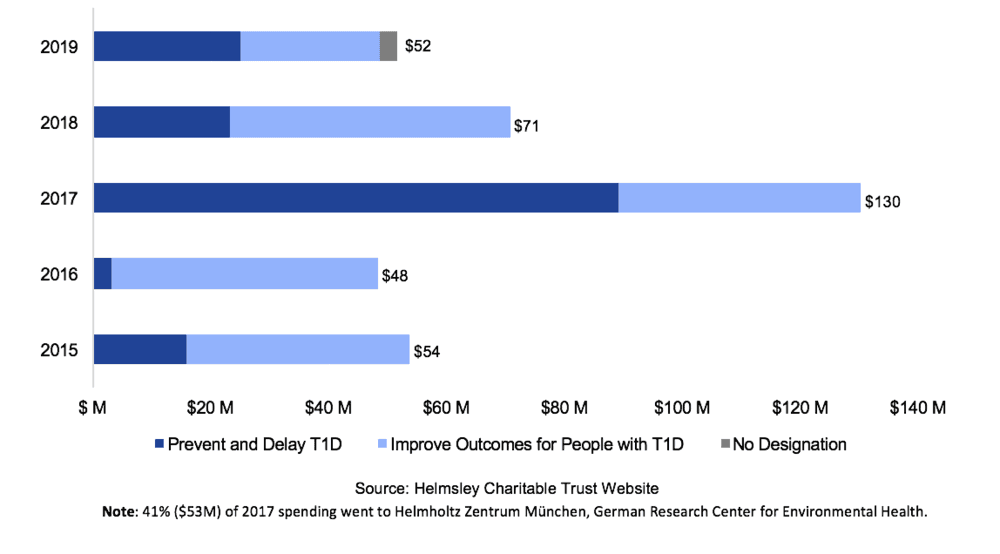 T1D Program Objectives:

The two stated objectives of Helmsley's T1D program are to "Improve Outcomes for People with T1D" and to "Prevent and Delay T1D." The former program aims to ease the burden of diabetes management and improve quality of life through funding grants in glucose control, broadening access to care, and community education/support. The latter focuses on near-term clinical therapies, funding grants that strengthen research infrastructure and develop impactful research tools to prevent and delay T1D.

A Cure for T1D?

Helmsley does not currently have a program that is focusing specifically on finding a cure for T1D. However, the Trust could make a powerful impact in speeding up a cure should it branch out in that direction. The JDCA believes that a Practical Cure program, which is one step from a complete 'ideal' cure, would be an ideal fit with Helmsley's objective of making a near-term impact by delivering a truly life-changing solution to the T1D community.