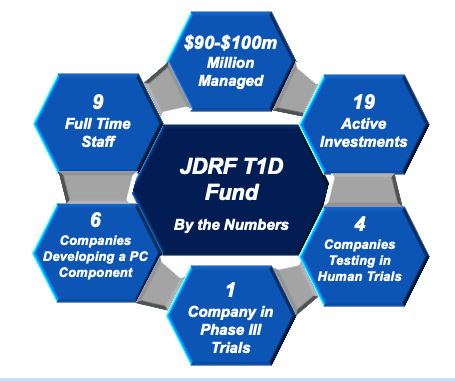 The JDRF T1D Fund was launched as a subsidiary of JDRF in 2016. This report examines the Fund's impact on T1D research in the three years since opening. Although the Fund has largely been true to its original mission and has made "high impact early-stage investments to accelerate commercial development of life-changing therapies for people living with T1D," it has of late started to increasingly invest in organizations that are not focused solely on T1D.
As stated in the Fund's press materials, and reiterated in JDCA interviews with a number of the investment companies, the Fund's investments have provided a stamp of approval for other investors who are, presumably, less knowledgeable about diabetes research. The Fund has also been one of the most regularly mentioned success stories featured by JDRF, although it still operates with very little transparency. 

Overall Impact
The Fund has been moderately active in fundraising and making investments. 
To date, it has invested in 20 companies, up from 13 in 2019. Grants are made in the amount of $500k to $2m, which means it has invested $10m to $40m in total. See Appendix A.
The Fund has $90-100 million under management.
The most notable Fund news of last year was the sale of Semma Therapeutics, one of the Fund's investments, which was acquired by Vertex Pharmaceuticals for $950 million in cash in September 2019. Although the money from the sale was likely made available to the fund immediately, it will not be reflected in JDRF's financial statements until next year. 
The Fund has increasingly been used as one of the most visible success stories of JDRF. Last December at JDRF's yearly State of the Foundation, CEO Aaron Kowalski spent more time discussing the Fund and its achievements than any other topic.
Staff and Operational Structure

The T1D Fund is headquartered in Boston and employs a staff of nine people, up from only two in 2017. The most visible Fund representative is the Executive Chairman, Sean Doherty who is regularly featured in media interviews. In addition, Doherty has become involved with many of the Boards of the companies in which the T1D Fund has invested. At least one of these companies pay Doherty for his board involvement, setting up a potential conflict of interest.

Open Questions and Lack of Transparency in Fund Operations

The Fund continues to operate without public transparency. Since the Fund is a subsidiary of JDRF, it is not required to submit public financial records or disclose an annual report. All of its reporting is combined and absorbed in JDRF's annual filings.
 In addition, very little information has been shared about how investments are selected, executive compensation or the amount of time and resources JDRF shares with the Fund.

Key concerns include, but are not limited to, investment selection criteria resulting in a higher number of investments which have no chance of being available for people currently living with T1D, compensation agreements which encourage executives to choose companies that also target larger markets instead of T1D focused companies, and the amount of time JDRF CEO Kowalski actively allocates away from JDRF to the Fund. Because the Fund uses donor contributions it has a fiduciary responsibility to address these key operational questions.
Research Overview
Of the 20 companies in which the Fund has invested, only four are currently testing in human trials. All other companies are in pre-clinical testing. Six of these companies are actively developing what could become a Practical Cure component. In addition, the JDCA examined each company's research pipeline, organizational focus, and mission statement and found that 11 of 20 companies' top priority in terms of research development was T1D, while the other nine were primarily focused on a different disease.

JDRF T1D Fund Expanding Beyond T1D
Last year, the Fund's Executive Chairman stated that the Fund would begin to encourage previously T1D focused companies to expand their research focus to include other diseases (click here to view). The purpose of this, he said, was a financial benefit.

These comments highlight a shift in strategy from the originally envisioned purpose of the Fund— making investments in companies that otherwise would not have conducted T1D research and/or companies that were 100% T1D focused but still in the early stages of development. This new strategy risks diluting a company's focus on T1D by encouraging it to expand into other, more lucrative, diseases for financial gain.
Appendix A: T1D Fund Investments Listed by Funding Date