JDRF Payroll Expense by Year (in millions)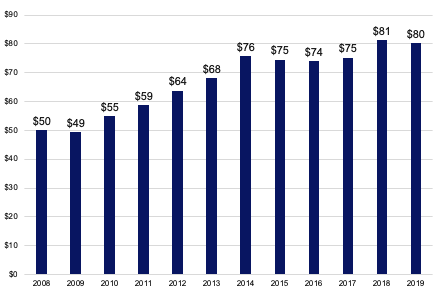 ---
This report is part of series that reviews elements of JDRF's annual budget. This one looks at trends in JDRF payroll – salaries, benefits, and bonuses. Over the course of the past 10 years no single expense category has increased, in total dollars, as much as payroll.
JDRF 2008 vs. 2019 Spending Change (in millions)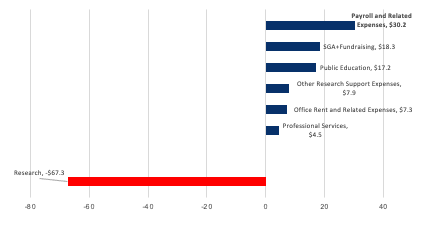 JDRF's payroll jumped from $50 million in 2008 to $80 million in 2019, a gain of 60%. Substantial payroll increases like this one can happen for only a few reasons: more people are hired, compensation per person rises, and/or the organization adds executive staff faster than regular staff.  
An increase in payroll is good if the extra money spent drives commensurate performance towards the goals of the organization. In the case of JDRF, a 60% increase in payroll would be well justified by something like a 60% increase in active T1D clinical trials or a 60% advance towards a cure for T1D. However, no such material progress is evident, and it remains unclear how the dramatic rise in salaries, benefits, and bonuses is justified.
What is driving JDRF's payroll increase?
From 2008 to 2019, JDRF research grant spending was nearly cut in half, despite the fact that JDRF raised the same amount of money in both years. Over the same period, payroll nearly doubled. This means that $40 million moved from funding research grants, the main mission of the JDRF, to paying for increases in salaries, benefits, and bonuses.
JDRF Research Grant Spending vs. Payroll Expense since 2006 (in millions)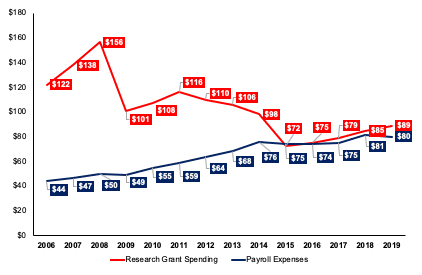 A closer examination reveals all of JDRF's individual programs saw increases in payroll; research and support, public education, fundraising and management.
Research and Support: Staff who identify research projects to fund and manage research grant funding. This category grew by +81%.
Public Education: Payroll related to staff who support education projects and lead advocacy programs.  This category grew by +61%.
Fundraising: Payroll related to staff who lead and implement all fundraising activities.  This category grew +48%.  
Management and General: Payroll related to the executive management staff, including CEO, CFO, etc. This category grew +66%.
JDRF Payroll Increases by Program Area (in millions)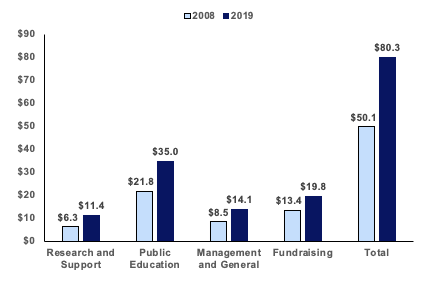 T1D Donors "Overwhelmingly Disagree" with Payroll Increases
A survey conducted in February 2020 showed that T1D donors do not feel that increases in payroll costs have helped JDRF deliver substantial progress toward a T1D Cure. Nine out of ten people said that the payroll increases are not justified. Furthermore, the survey found that donors "overwhelmingly disagree" with this reallocation of funds and feel that it has not brought them any closer to their goal of a cure for T1D.
T1D Donor Survey Response

Conclusion
Increases in payroll can be a good thing if they result in extraordinary performance. However, today there are only eight Practical Cure projects in human trials and support for research grants at JDRF has been cut by $67 million since 2008. If payroll had simply increased at the rate of inflation since that year, the result would have been an additional $165 Million for research grants.