JDRF published its 2019 audited financial statements and IRS Form 990 on February 14, 2020. This report is the second in a series covering these financial disclosures. The first provided a high-level overview of the organization's finances. This one will focus on JDRF revenue and expenses.
In examining these categories, one number that hops off the page is JDRF 2019 revenue, which, at $232 million, tied the all-time record high previously set in 2008. Tying that record demonstrates JDRF's continued exceptional strength in fundraising. 
Yet, there is a major difference between these two record revenue years in how JDRF used the money raised. In 2008, the organization gave $159 million to research grants, 67% of total revenue. Comparatively, in 2019, JDRF directed just $89 million to this category, 38% of revenue, roughly one half of the 2008 number. While research dropped, all other spending categories, including education, advocacy, salaries, and payroll have doubled.
Revenue
As demonstrated by a record tying revenue year, JDRF continues to be a highly effective fundraising organization. Revenue highlights include:
JDRF's total 2019 income was $232 million.  As noted above, this revenue matched JDRF's all-time high.  See Appendix A.
57% of revenue came from "special events" like walks and galas, and other grassroots community events.  Special Events grew +2% from 2018. See Appendix B.
34% of revenue came from donor "contributions," including online donations, estate bequests and corporate gifts. Donor contributions declined by -6% from 2018, indicating a potential weakness in donor development.
5% of revenue came from returns on investments, including a small gain from the JDRF T1D Fund. It's worth noting that the sale of Semma Therapeutics, which we expect to be significant, will be reflected in next year's 2020 financial disclosures.
4% of revenue came from affiliate contributions – payments made to JDRF International by JDRF organizations outside of the United States.
Expenses
As noted in the opening to this report, JDRF spends much less funding research grants than it did 10 years ago. During this period, operating expenses, as well as education/advocacy expenses, increased substantially, suggesting a strategy shift or drift which has not yet been publicly explained. A few additional highlights:
JDRF spent (expenses) $212 million in 2019, up from $208 million in 2018. See Appendix C.
38% of revenue in 2019 was used to fund research grants ($89 million). See Appendix D.
62% of revenue in 2019 was used for operating expenses, including public education, advocacy, salaries, rent, etc.  
The total amount of research grants in 2019 grew slightly from the prior year (+2%) but remained -$67 million less than 2008.
Since 2008, almost all non-research costs have increased. See Appendix E.

Total payroll and salary expenses have increased +$30M, up +60%.
Public education expenses have increased +$17M, up +47%.
SGA+Fundraising expenses are up +53%.
Appendix A: JDRF Yearly Income (in millions) Since 2005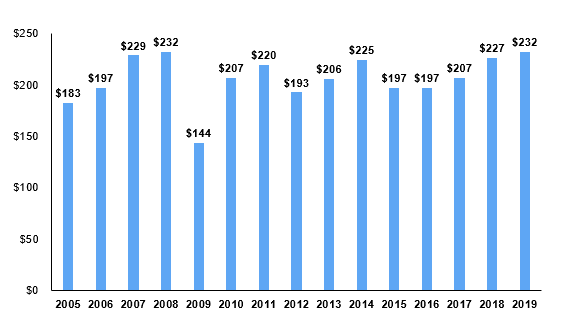 Appendix B: JDRF Sources of Income (in millions), 2018 vs. 2019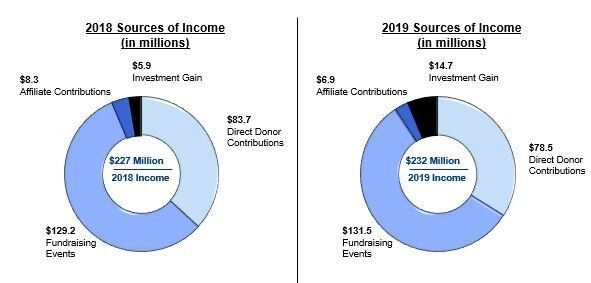 Appendix C: JDRF Expenses (in millions), 2018-2019
Appendix D: JDRF Research Spending Since 2005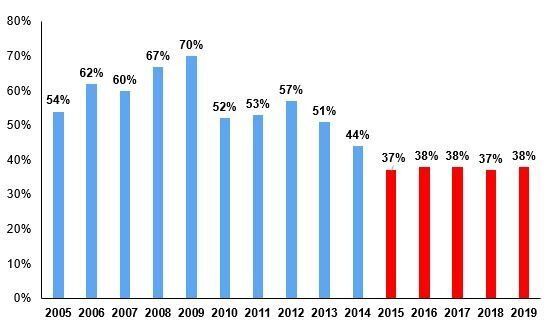 Appendix E: JDRF Changes in Spending (in millions), 2008 vs. 2019