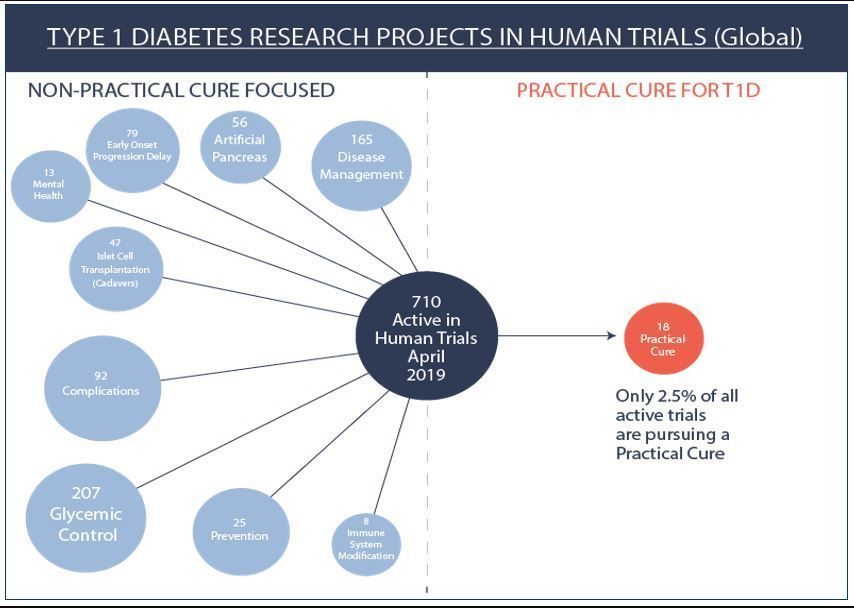 This is the seventh annual review of all active type 1 diabetes trials currently in human testing. This year, in addition to all clinical trials active in the US trial registry, we also included trials listed in the official registries of the EU, Australia, China, Japan, and India. Each trial is classified into ten distinct categories, shown in the infographic above. As of April 2019, there are 710 active T1D trials in total. Only 18 of these trials are pursuing a Practical Cure. The chart below shows the number of active T1D trials by geographical location.
Active Human T1D Trials by Geographical Location
---
T1D Projects Registered in the United States

The US remains the dominant force in global medical research for T1D and it is important to note that more T1D projects are registered in the US than any other country by far. While the majority of projects registered in the US are being conducted on US soil, 217 of the 553 US registered projects are being conducted in other countries throughout the world. 

The total number of US registered T1D projects increased from 471 in 2017 to 553 in 2018. See the chart below. The largest areas of growth are disease management and prevention studies. Practical Cure projects increased from 13 to 18, but remain only 3% of all projects being conducted in the US. No trials outside of the US are currently testing a Practical Cure.