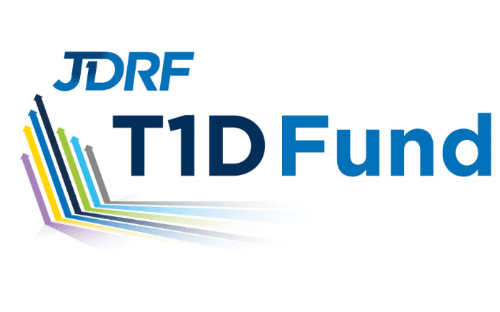 This report provides an overview of the JDRF T1D venture philanthropy fund now that it has been operating for a full year. The JDCA believes that the fund has the potential to provide unique value to the T1D community through the speedy development and commercialization of research breakthroughs that could dramatically improve quality of life. However, information about the fund is limited and tightly controlled by the JDRF for reasons that remain unclear. The JDCA believes that, because the fund receives 100 percent of its money from JDRF and outside donations, fund operations should be made fully transparent and available to donors.

The JDCA contacted both JDRF and the JDRF T1D Fund for more information and all requests have gone unanswered. The remainder of this report discusses all available information on the fund and raises open questions and concerns we hope will be addressed soon.

Fund Impetus and Background

Commonly referred to as "venture philanthropy funds," organizations like the JDRF T1D Fund are non-profit in their legal status but set up and managed like venture capital investment funds. Funds give money to commercial companies in exchange for royalty rights or stock ownership in the company— which is quite different from the traditional non-profit model that gives money with the sole purpose of furthering the mission and without any expectation of financial return.

The venture philanthropy model achieved notoriety and broad acceptance with the success of the Cystic Fibrosis Foundation (CFF), who established this structure to accelerate the development of pharmaceuticals designed to significantly improve patients' quality of life. CFF made several venture philanthropy investments in small companies in return for royalty rights and one of these companies developed a drug that achieved significant commercial success. In 2014, CFF sold the long-term royalty rights to an investment house for $3 billion, making it the largest endowed medical research non-profit in the United States.

Inspired by the CFF story, many different non-profit organizations have launched similar enterprises. This includes JDRF, whose fund officially launched in January of 2017 with the goal of accelerating commercial development of life-changing therapies for people living with T1D.

At the time of its announcement, JDRF committed $32 million over multiple years. In 2017, according to financial statements, the JDRF parent organization gave $7.2 million to the T1D Fund. This money appears to have come from JDRF investment returns rather than a redirection of donations made to JDRF through traditional fundraising activities such as walks and galas. 

Leadership and Staffing

There is limited information on how the fund is staffed outside of the identification of the managing director and board of directors, although a number of additional employees can be found on the fund's LinkedIn page. The official JDRF T1D Fund website states that an independent team runs the fund and governs it as "a separate vehicle" from JDRF. It also states that it has "an independent board and experienced executive committee."

It is worth noting that many JDRF board members also serve on the T1D fund's board, including JDRF President and CEO Derek Rapp. It remains unclear how much of Rapp's time will be used for selecting fund investments versus furthering the philanthropy mission of JDRF. The JDCA believes that Rapp has a fiduciary responsibility to JDRF and its donors as CEO and, therefore, the details of his role and the amount of time he spends working with the fund, a for-profit investment vehicle, should be clarified publicly.

Another concern for regular JDRF donors is how much the fund relies on people who work for the JDRF parent organization for research analysis and other operational support. The JDCA has no issue with sharing staff and expertise unless JDRF staff shifts focus from funding projects that will deliver research breakthroughs without prejudice to projects that may result in a near-term profit delivery— a very different objective.

Compensation for the fund's executives also remains an open question. The fund website states that all proceeds and financial returns will either be transferred to JDRF or be reinvested by the fund. However, it does not provide details about whether fund executives receive additional compensation for successful projects. One would presume executives will be compensated proportionally to performance and stand to do well if lightning strikes, as is common in venture capital firms.

Investments

All investments given to the fund are considered full donations, and as such, donors do not receive any type of financial return. There is a minimum "unit" of investment of $500,000, which limits the option of investing in the fund to only the wealthiest individuals. The fund announced a fundraising target of $80 million over two years with the goal of deploying that amount over four years. JDRF press material stated the fund has raised over $60 million to date, although this remains unverified in any financial document. Details about who has given to the fund remain unavailable.

To date, the fund has made only seven investments. The companies received an investment from the fund in the range of $500,000 to two million, according to press releases. A description of the seven companies is listed below and more information can be found in Appendix A.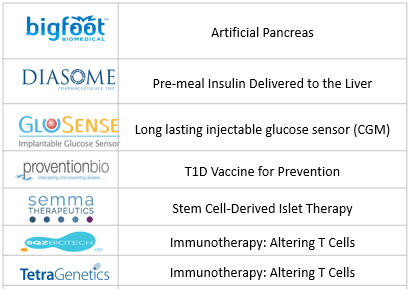 JDRF's involvement in these companies serves as a stamp of credibility, which will help in attracting other investors— ones who may not have put money into T1D research. This is good for people with T1D because the funding helps ensure that these projects have the capital to move through human trials as quickly as possible. 
How the T1D Fund Adds Unique Value
As a venture philanthropy vehicle that includes a profit objective, the fund has a strong motivation to drive research forward with urgency. Different than academic research, where being published in a journal is a key objective, the fund achieves success when its investments get to market and begin making money.  This is good for most people with T1D because the focus is very much on the practical outcome of getting usable technology to market as quickly as possible.
Moreover, many of the investments feature a component that targets a Functional/Practical Cure.  As noted above, when the fund was first announced in the press, JDRF quoted: "The JDRF T1D Fund will make high-impact early-stage investments to accelerate commercial development of life-changing therapies for people living with T1D." Although there does not appear to be any legal framework which binds JDRF to invest in companies pursuing a cure, or Practical Cure-related products, JDRF does appear to be making good on its promise. To date, three of the seven companies which have received investments are developing a component for a Practical Cure.
Conclusion
On net, the JDCA believes that the T1D Fund is a valuable initiative, with many positives: incentivizing companies to develop relevant technologies for T1D; adding a commercial mindset to the deployment of charitable resources; and investing in research which targets a Functional/Practical cure, to name a few. However, the lack of transparency around fundraising, staffing, and its overall use of, and connection to, JDRF resources remains an open question. As stated above, because the fund receives 100 percent of its money from JDRF and outside donations, the JDCA believes that fund operations should be made fully transparent through regular reporting so donors can hold executives accountable for genuine performance toward the ultimate goal of finding a T1D cure.