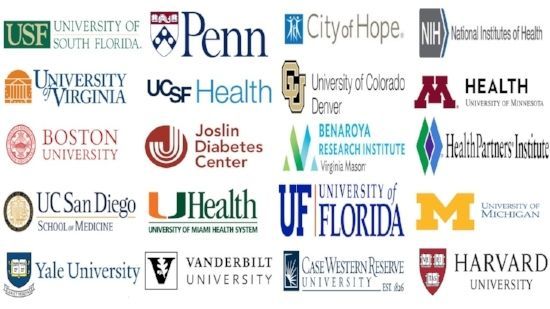 This report provides an overview of the top 20 type 1 diabetes (T1D) research centers ranked by T1D research budget size during 2016— the most recent year this data is available. Our analysis includes the three largest budget sources: The National Institute of Health (NIH) research grants for T1D; Juvenile Diabetes Research Foundation (JDRF) research grants; and major donations or gifts from independent sources, including family foundations and "captive" fundraising organizations.

The NIH, funded by tax dollars, is the single largest source of funds for T1D research. In 2016, the NIH awarded $383 million to 246 T1D research centers. The top five research centers received $83.5 million from the NIH in total, as shown in Appendix A below.

The NIH did not fund any Practical Cure projects in 2016, and very little funding went to cure-focused research.
 
Highlights:
$176 million was awarded to the top 20 T1D research centers in 2016.

78% from NIH
11% from JDRF
11% from Major Gifts

$103 million was awarded to the top five research T1D research centers as follows:

The University of South Florida (USF) had the largest total budget at $28.5 million driven largely by a single $24 million dollar grant for the TEDDY study.

TEDDY is a study which is examining child diets, illnesses, allergies, and other life experiences with the goal of determining causes of T1D.
The overall USF budget is down from $59 million in 2015. This main driver of this decline is that TrialNet ($37 million in USF funding in 2015) was not renewed. 

The University of Virginia had the second largest budget at $21.9 million, the majority of which is driven by AP-focused research.
Boston University had the third largest budget at $18.3 million, $12 million of which was attributed for a single grant for a pivotal trial for the Bionic Pancreas.
The University of California San Diego had the fourth largest budget at $17.3 million. Research grants were awarded for a wide range of research projects, including beta cell health, islet cell transplantation and immunology research.
Yale had the fifth largest budget at $17.2 million. Research grant project focus includes metabolic research, T1D pathogenesis, and immunology research.

The NIH awarded itself $8.6 million for T1D research.
The top 20 centers received $17.4 million in research funding from JDRF in 2016. The JDCA will write a separate report on JDRF research later in the year).
It is worth noting several of the top centers, such as City of Hope, Joslin Diabetes Center, and the University of Miami have built successful institutional fundraising apparatuses.
Appendix A: 2016 Top 20 Research Centers by Annual Budget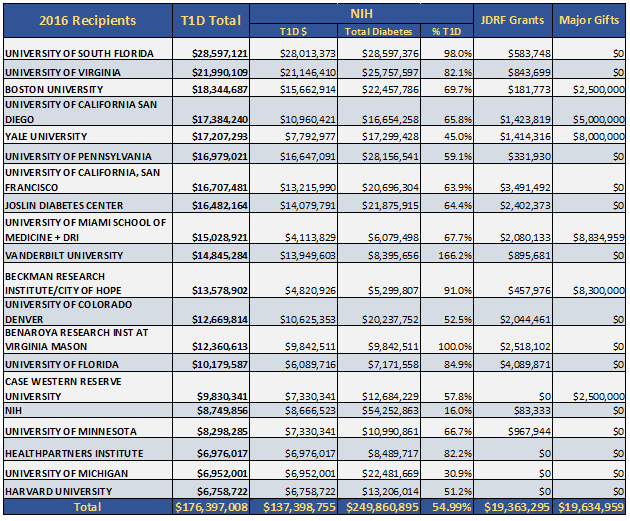 Appendix B: 2015 Top 20 Research Centers by Annual Budget