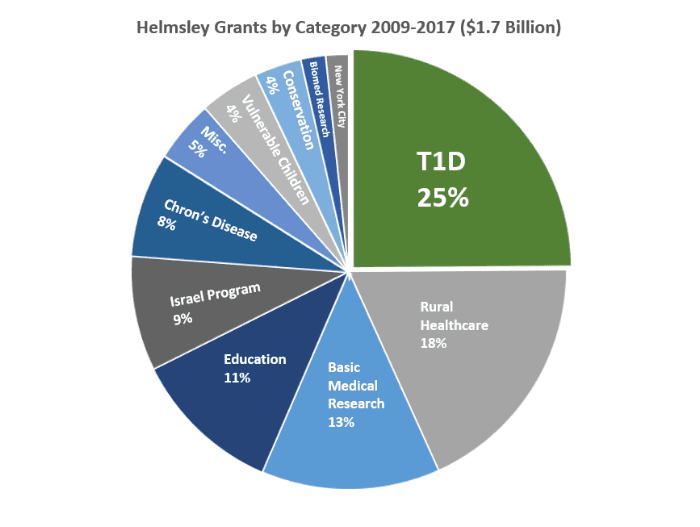 This report provides an overview of the Leona M. and Harry B. Helmsley Charitable Trust and their extraordinary commitment to T1D. In the nine years since opening, the trust has spent an average of $48 million dollars per year on T1D research grants, making it one of the largest supporters of T1D in the world, just behind JDRF who spent $70 million on T1D grants in 2017.
 
In preparing this report, the JDCA reviewed Helmsley 990 financial statements and all T1D-related grants since in 2009 (413 grants in total), when the trust began awarding grants to type 1 diabetes-related projects. All programs and grants are available to the public on Helmsley's website.
History and Overview
 
The Helmsley trust was established in 1999 by Leona Helmsley, a real estate billionaire, who left the majority of her estate to the trust upon her death. Based in New York City, the trust is fully controlled by three trustees: David and Walter Panzirer, both grandchildren, and Leona's longtime lawyer, Sandor Frankel. The three trustees decide which causes to fund and hold the ultimate decision-making authority. In 2017, the trust held over $5 billion in assets and disbursed $257 million in philanthropy.

Although the fund is private, it operates with a high degree of professionalism and transparency which is exemplary among non-profit organizations. The fund provides grants to several different causes, as noted in the infographic above, of which T1D is the largest, accounting for one-quarter of all Helmsley trust spending from 2009-2017.

Helmsley employs a full-time, professional staff for each focus area that is tasked with awarding and managing grants to fulfill funding objectives. Helmsley states that their funding goal is to "craft grants which align with broader program strategies and create solutions that are self-sustaining, scalable, and repeatable."

Helmsley and T1D

The Helmsley T1D program is currently led by Dr. Gina Agiostratidou, who manages a staff of 11 people. Although Helmsley does not take donations and has no mandatory obligation to donate to T1D, the impact of their work can be felt across the T1D community.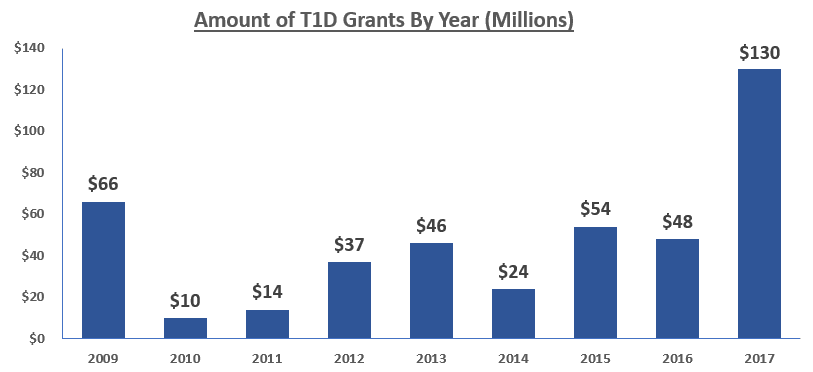 Each year since its inception, the fund has made significant financial contributions to T1D research, as illustrated in the chart above. In 2017, the contribution level peaked at $130 million, roughly half of the total amount of charitable contributions made by the trust. In addition, JDRF-affiliated entities received ten separate grants totaling nearly $17 million. Helmsley also actively supports the JDRF T1D Fund, diaTribe, and several notable universities and health systems.

T1D Research Funding Objectives

Helmsley specifies two broad objectives for T1D research: "Improve Outcomes for People with T1D" and "Prevent and Delay the Disease." Since the fund began, roughly 53 percent of spending has been attributed to the former, while 47 percent has been spent on the latter. The following chart summarizes the differences between the two objectives: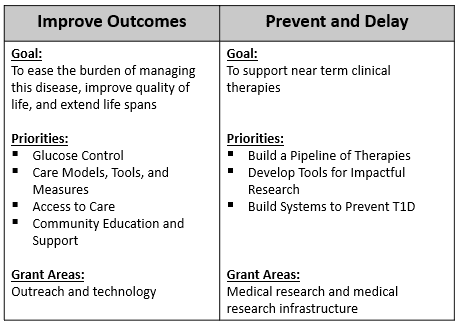 ---
Largest T1D Grant Recipients
 
The twenty largest grant recipients between 2009-2017 received 75 percent of all money awarded for T1D, and the top five grantees received over 50 percent. All of these recipients received multiple grants. The five largest recipients are:
Jaeb Center for Health (20%—$84 million): Used to establish a clinical registry for T1D, in conjunction with the T1D Exchange.
Helmholtz Zentrum Munchen (14%—$56 million): Used for Oral insulin development, GPPAD, and infant early diagnosis.
JDRF (10%—$42 million): Attributed to a wide variety of projects.
Unitio Inc. (5%—$23 million): Used to establish and run the T1D Exchange.
Children's Hospital Corp. (4%—$18 million): Used to improve insulin and glucagon delivery. 
A full list of the top twenty recipients is found in Appendix A.

The two largest individual T1D grants in Helmsley's history were awarded in 2017 to Helmholtz Zentrum for the Global Platform for the Prevention of Autoimmune Diabetes (GPPAD). One grant, given in the amount of $24m, is focused on the identification of infants who have a high genetic risk of developing T1D. The other grant ($27m) will administer oral insulin to children aged four to seven with the goal of reducing T1D incidence. There are two other notable programs which Helmsley supports, TrialNet and the T1D Exchange. TrialNet is a multi-organization consortium whose mission is to "prevent T1D and stop disease progression by preserving insulin production before and after diagnosis." The T1D Exchange includes a clinic-based registry, a patient-centric website called Glu, and a biobank.
 
Helmsley and Practical Cure
 
Helmsley confines its grantmaking to projects that adhere to their objectives, and, as a result, do not actively fund Practical Cure research initiatives. If Helmsley adopted Practical Cure as an area of focus they could have a profound impact on PC progress. PC research is very much in line with Helmsley's guiding principles: "Helmsley supports innovative projects that are high-risk, high-reward, and have a long-term vision. We encourage bold thinking and new approaches, supporting projects that others cannot fund but have a clear impact on the lives of people with T1D."

Over the past 10 years, the enormous generosity of the Helmsley Trust has impacted the daily lives of nearly everybody living with T1D, and the JDCA hopes the trust will continue their efforts and consider incorporating PC pathways and projects into them. We in the T1D community should not underestimate nor under-appreciate everything Helmsley does for our cause.
---
Appendix A: The Twenty Largest Helmsley Grant Recipients