Summary
JDRF released their 2017 audited financial statements this week.
JDRF income grew by 5%, from $197.4m to $206.8m, generated primarily from fundraising activities.
Research grant spending (the amount of money used to fund research) also grew by 5%, from $75m in 2016 to $79m in 2017.
Despite the modest increase, grant spending remains at decade-low levels, down from $156m ten years ago in 2008.
The percent of income used for research grant funding, 38% in 2017, was sustained at record low levels for the third year in a row, as shown in the chart below.
This decrease in spending has not been acknowledged or explained to donors.
RESEARCH GRANTS AS PERCENT OF REVENUE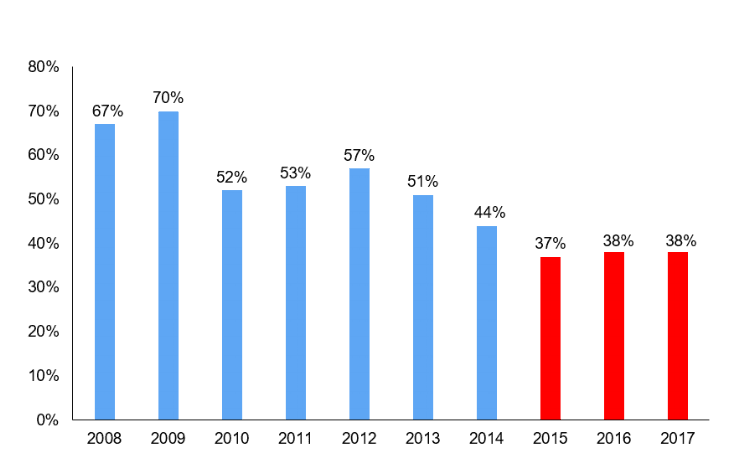 This report provides an overview of JDRF's 2017 financial statements, released this week. This report, based on publicly available tax and financial documents, show how JDRF generates its revenue and how it utilizes those funds. Financials are audited and approved for release by the accounting firm KPMG LLC. 
There are two key highlights related to research grant spending:
1) RESEARCH GRANT SPENDING
The main news is that research grant allocation has remained at significantly lower levels for three consecutive years, as compared to the previous ten years (2006-2014) when the JDCA began tracking JDRF financials (See appendix A). In 2017, both JDRF income and JDRF research grant spending increased by 5%, as shown in the bullets above. Although any increase in research spending is a positive step forward, the amount of increase is largely immaterial, as it still represents a $19 million decline from 2014, and $77 million less than the 2008 peak year. 
2) RESEARCH GRANTS AS PERCENT OF REVENUE
Research grants as a percentage of revenue, which is an indicator of the priority level of research grants versus other areas of spending, did not increase and remains at 38%. This number is down from 44% in 2014 and 67% from the 2008 peak year.
Our principal concern with the historic and sustained decrease in research grant funding is that the continued lack of alignment with donor priorities, if not corrected quickly, will accelerate a decline in donations.

3) Research Grant Spending vs. Salary and Administration

Over the past decade, salary and administration costs have increased by 71%. This number, as illustrated in Appendix B below, is directly correlated to the 50% decline in research spending.

The high compensation level for diabetes non-profit executives places them in the top 1% of all earners in the United States. Consequently, JDCA believes it is important to hold these highly-compensated executives to a level of accountability and performance commensurate with their salary. To date, very little executive compensation is tied directly to performance and executives are paid the majority of their compensation whether or not they meet their main objectives or make progress toward a cure for T1D. As long as compensation remains untied to performance, executives will remain unaligned with donors who want resources allocated to T1D cure research above all else.

Conclusion

The decrease in JDRF research spending is indicative of either an intentional shift to a new strategy or an unintentional drift away from the long-standing focus on funding research grants. Either way, the JDCA believes this change should be clearly explained to donors.
This year, over 120,000 people signed the JDCA More for a Cure Petition, asking the JDRF, ADA, and other major T1D non-profits to significantly increase the percent of cure research spending.
We encourage all JDCA readers to forward this email to their local JDRF chapter heads, as well as the JDRF corporate offices, to ask for a public statement explaining this historic decline in research funding.
JDRF local chapters can be found at this link: http://www.jdrf.org/chapter-select/
The JDRF corporate email is: info@jdrf.org
Appendix A: JDRF Research Grants Spending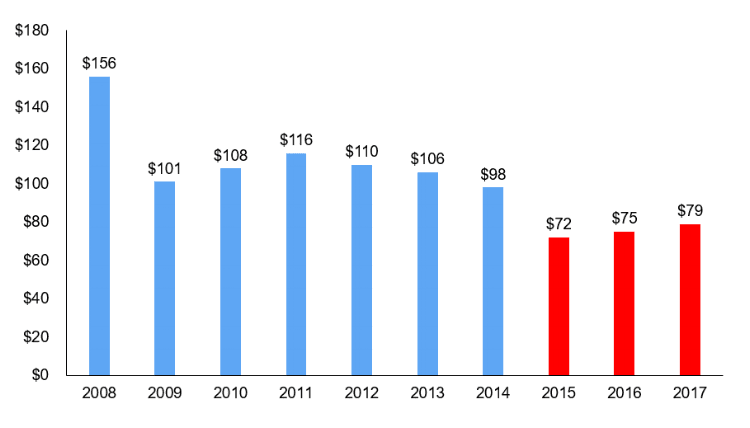 Appendix B: JDRF Research Grants Spending vs. Salary and Administration (in millions)