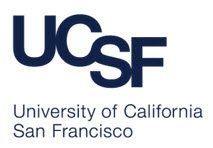 This is the third in a series of reports on the top five largest T1D research centers in the U.S. It features a profile of the University of California, San Francisco (UCSF) Diabetes Center. In addition to an overview of the organization itself, these reports also examine the current research and research spending at the University. 

In 2015, the most recent year of available data, UCSF had a total T1D research budget of $21 million, almost half of which came from a $10 million-dollar donation from past Facebook President Sean Parker to establish a new research laboratory, discussed in more detail below. $7 million was given through NIH grants and $4 million was given through JDRF grants.
HISTORY AND OVERVIEW
The Diabetes Center at UCSF is a comprehensive research center and clinic with resources for patient care, diabetes education, and clinical research. It was established as part of UCSF Health in 2000 and is one of sixteen federally recognized Diabetes Research Centers (DRC) in the country, selected for its ability to facilitate progress in research with the goal of developing new methods to treat, prevent, and cure diabetes. Mathias Hebrok was appointed as the Director of the Diabetes Center in 2010.

In 2015, The Sean N. Parker Autoimmune Research Laboratory was established with the Diabetes Center at UCSF through a $10 million-dollar donation, as mentioned above. The centers stated goal is to investigate the underlying causes of autoimmunity. Its main focus is type 1 diabetes, but it also conducts research on other autoimmune diseases like rheumatoid arthritis and multiple sclerosis. Dr. Jeffrey Bluestone, the past Director of the UCSF diabetes center and an expert in immunology, was appointed as the head of the Parker Laboratory.
T1D RESEARCH
The Diabetes Center at UCSF has an ambitious and broad-ranging research strategy. Research within the diabetes center is investigating a wide range of topics related to T1D including, but not limited to, cell/stem cell research, immunology research, and islet cell transplantation research. Full details on each grant are listed below in Appendix A (NIH) and Appendix B (JDRF).

Key Research Grant Takeaways:
In 2015, UCSF received 25 NIH research grants and 22 JDRF research grants.
Although grants were awarded for a wide-range of research topics, a large number of the grants are focused on islet cell transplantation, immunology, immunological markers, and beta-cell health.
UCSF was awarded four NIH research grants, and two JDRF research grants, with an amount more than $500,000. The grant research topics are as follows.

JDRF Grants:

Preserving Beta-cell Function in New-Onset T1D ($873,425)
Treg Biology ($591,724)

NIH Grants:

T1D Management ($708,645)
Glycemic Control ($641,876)
Beta-Cell Function ($589,622)
Islet Cell Transplantation ($507,360)

UCSF also received funding for its continuation as a Clinical Center for TrialNet.
Jeffrey Bluestone received five JDRF T1D research grants with a total 2015 budget of $1,531,995. All five research grants are cure-related and include immunology research and islet cell transplantation research.
CLINICAL TRIALS RESEARCH
UCSF is currently overseeing eight clinical trials and is an active test site for an additional twelve trials. Of the eight trials, three are focused on screening and prevention, three on early-onset research, one is a glucose control trial, and one is a cure-related trial testing islet cell transplantation. More information is available on each trial at the UCSF website(click here to view).

In addition, UCSF is an active test site for two PC projects:
ATG-GCSF: A drug-combination trial, ATG is aimed at stopping the autoimmune attack and GCSF is intended to stimulate beta cell regrowth.
Caladrius T-Rex Study: An infusion therapy, Caladrius draws blood from the patient, separates Tregs cells, and uses those cells to grow additional cells. The cells are then re-infused into the patient with the goal of balancing the immune system.
APPENDIX A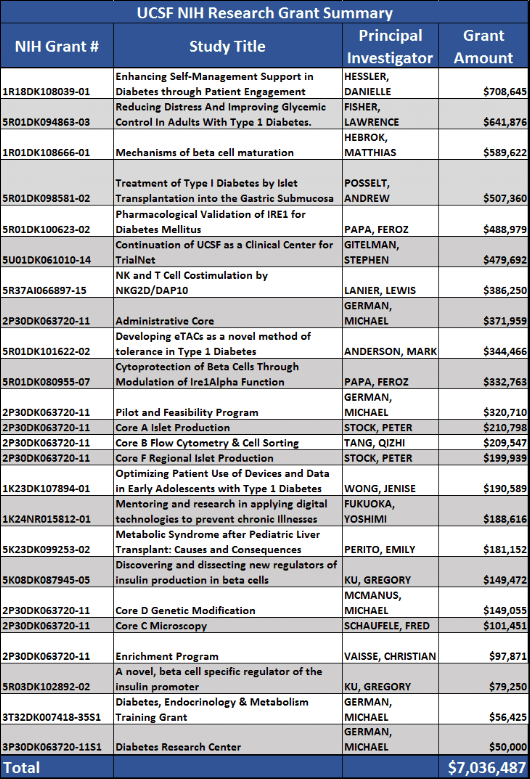 APPENDIX B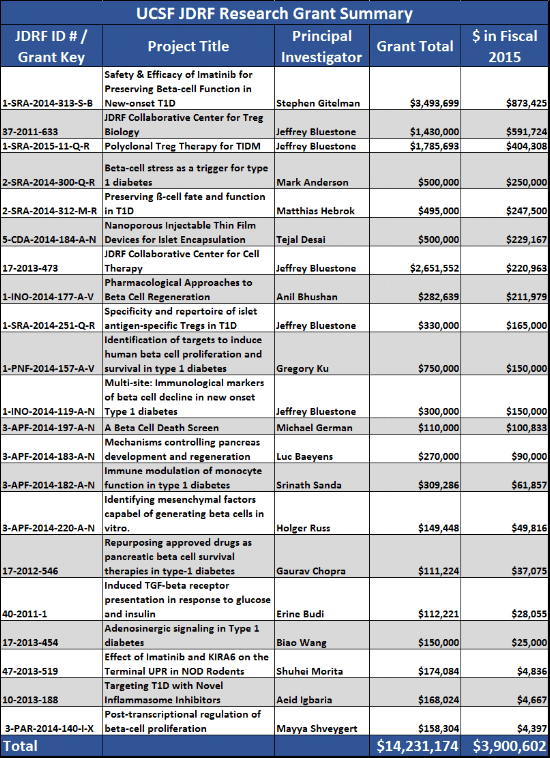 Diabetes Center at UCSF Website: https://diabetes.ucsf.edu/

Sean N. Parker Autoimmune Research Laboratory at UCSF Website: https://parker.org/initiatives/the-sean-n-parker-autoimmune-research-laboratory