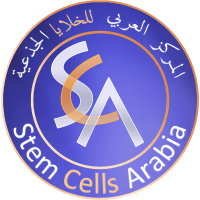 SUMMARY:
Stem Cells Arabia is one of eleven T1D Practical Cure projects currently in human trials.
A Phase I/II trial is currently registered in clinicaltrials.gov and is recruiting established T1D patients.
Islet cell supply is addressed with a stem cell treatment and cell protection is addressed through retraining of white blood cells.
While early results appear promising, they have NOT been peer-reviewed or published in a medical journal. Accordingly, until verified, all claimed results should be read with caution.
This is the fifth in a series of reports detailing individual research projects currently in human trials with the potential to deliver a Practical Cure. It provides an update on the type I diabetes project at Stem Cells Arabia and features an interview with the Principal Investigator and Stem Cells Arabia CEO, Dr. Adeeb Al-Zoubi. Stem Cells Arabia is a private company located in Amman, Jordan.

This report was written in collaboration with Joshua Levy. You can find Joshua's informative diabetes blog here: http://cureresearch4type1diabetes.blogspot.com/
RESEARCH OVERVIEW
Stem Cells Arabia developed and is currently testing The Jordanian Method for Treatment of Diabetes. The method utilizes the patient's own blood, which undergoes two separate treatments before being returned to the patient.The treatment is minimally invasive and does not require general anesthesia or surgery.

The procedure is as follows:
The T1D patient's blood is drawn and processed to isolate stem cells and white blood cells (lymphocytes and monocytes).
First, the stem cells are isolated from other contaminating blood cells using a purification process which yields highly pure stem cells, ensuring high regeneration and differentiation capabilities.
The purified stem cells are then transplanted into the areas of the pancreas most active in insulin production where they can develop into fully functioning insulin-producing beta cells and regulatory alpha cells.
Second, the white blood cells are treated with mesenchymal umbilical-cord-blood stem cells (This approach is similar to Dr. Zhao's Stem Cell Educator project at Hackensack University Medical Center Click here to read the JDCA report)
The theory is that once treated, the white blood cells will no longer attack the insulin-producing islet cells. In addition, the researchers are hopeful that these treated cells will retrain the remaining white blood cells in the patient.
Results from the Human Trial Pilot Study (claimed by PI; NOT published nor peer-reviewed)
In 2015, Stem Cell Arabia completed a four-person pilot study of patients who had established T1D for more than three years. Al-Zoubi claims that three out of four patients achieved insulin independence and the fourth was able to significantly reduce the amount of external insulin she required. 

After the initial blood treatment and re-infusion, the procedure took an average of three to six months before the full benefits were achieved. Three of the patients were able to stop using insulin altogether and remained insulin independent for two full years before Al-Zoubi lost contact with them. The fourth patient was off insulin from 55 days' post-treatment for nine months. She then returned to taking insulin at a much lower dose (0.1 u/kg after treatment compared with 1.0 u/kg before treatment) and is now on a single daily insulin dose at a 0.1 u/kg.

If accurate and credible these are great results, but they must be read with caution until they are published and peer-reviewed. When asked if Stem Cells Arabia has any plans to publish Al-Zoubi replied, "No, we are considering filing for a patent on this method. Our shareholders believe that we might have discovered something worth filing for a patent." The JDCA encourages Al-Zoubi to put patients first and officially share his results with the T1D scientific community as soon as possible. 

Current Human Trial:

Stem Cells Arabia is recruiting for a 100 person phase I/II trial in Amman, Jordan with the goal of demonstrating safety and efficacy in children and adults aged 8 to 55 with established T1D (greater than 12 months since diagnosis). The trial started in February of 2014 and so far has enrolled 30 patients who have begun treatment. The trail is still recruiting patients and lists a possible recruitment size of 100 patients in clinicaltrials.gov, but size will be dependent on how much funding Stem Cells Arabia can secure. The estimated completion date is January 2019 and patients will be followed for up to five years.
---
HUMAN TRIALS RESEARCH DESIGN SUMMARY (ACTIVE):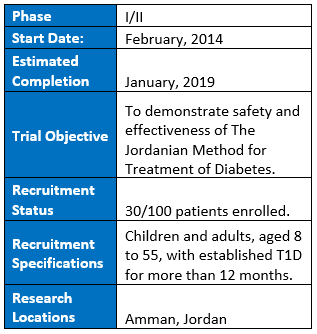 Clinical Trials Link: https://clinicaltrials.gov/ct2/show/NCT02644759
Stem Cells Arabia Website Link: http://www.stemcellsarabia.net/