SUMMARY:
The Beta-02 ßAir Bio-Artificial Pancreas is one of twelve Practical Cure projects in human trials.
The device is currently in early stage human trial testing in Europe.
Initial results were reported for one patient indicating that the device was safe and operated as intended.
One key next step is to test islets derived from stem cells.
Further results not expected in the near term.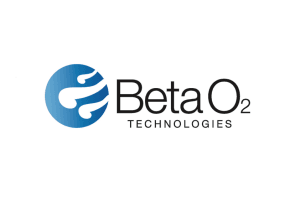 This is the first in a series of reports detailing individual research projects currently in human trials that have the potential to deliver a Practical Cure. These reports will be published over the months ahead.
The twelve Practical Cure projects that will be profiled have been identified and summarized in the 2016 State of the Cure for Type 1 Diabetes, which was published during the first week of January. These reports provide additional details and will include an up-to-date review of all publicly available clinical trial data, press and news updates, and whenever possible, an interview with the project's CEO or lead researcher.
This report focuses on the Beta-02 ßAir Bio-Artificial Pancreas and features an interview with the company's CEO, Dr. Yuval Avni.
COMPANY AND DEVICE OVERVIEW
Beta-02 Technologies Ltd. is a private company located in Israel, near Tel-Aviv. The Beta-02 ßAir-Artificial Pancreas is an advanced encapsulation device that features a mechanism to maximize oxygen flow to beta cells with the goal of substantially increasing cell survival rates.
The encapsulation device, roughly the size of a hockey puck, is filled with islet cells and is surgically implanted just under the skin in the lower abdominal area of the body (see illustrations below). The device does require replacement after several years (no exact time-frame provided).
A key feature of the device is that it includes two ports on the surface of the skin which allow the patient to inject oxygen into the device once a day. A separate, table-top oxygen generating machine is provided. Beta-02 says the device is resilient to activity and sports and says the device is not visible under the skin, although the air refilling ports are visible. Current testing is using beta cells sourced from recently deceased individuals but the technology, according to the company, is also being adapted to protect stem-cell derived beta cells.
BETA-O2 DEVICE ILLUSTRATION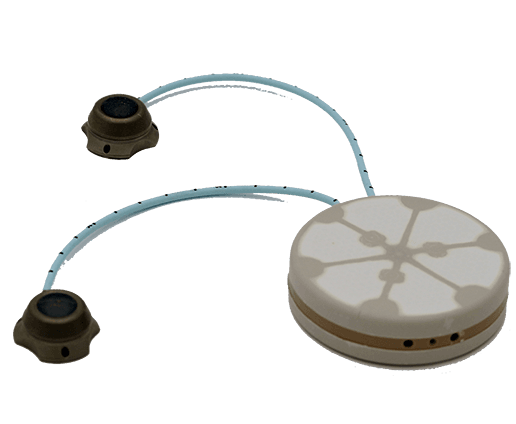 EXAMPLE OF OXYGEN PORT ACCESS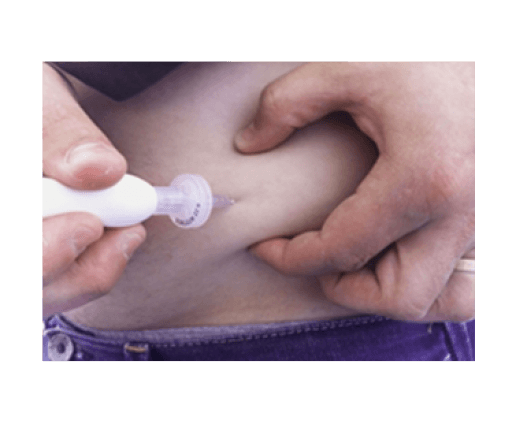 Image Source: Beta-02
HUMAN TRIALS RESEARCH DESIGN SUMMARY (ACTIVE):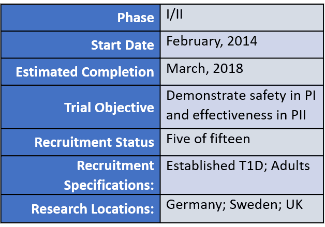 TRIAL RESULTS TO DATE:
Preliminary results have been published for one patient to date. The report presented basic information on the insertion procedure and device performance. The implementation procedure required one hour in the operating room followed by four days in the hospital for observation. The early performance report is favorable.
No additional information was provided regarding exogenous insulin requirements, A1C levels, hypo/hyper events, etc. There is no specific timetable for the next update.
NEXT STEPS:
When asked about the near-term priorities, Avni stated that Beta-O2 is focusing on three key developments:
To continue to accumulate more preclinical and clinical data on safety and efficacy with the base, version-1 device.
To develop a market ready version-2 device that holds enough beta cells to replace insulin altogether, instead of being an add-on to insulin therapy. Timeline to market is three to five years.
To advance from cadaver cells to stem cells and to secure a stem cell provider that Beta-02 can collaborate with. (Beta-02 hopes to team up with a stem cell provider and be testing in humans within the next year)
"Human trial data will take some time," Avni added, "especially because our main effort is not just to keep the cells alive, but to keep them alive and functional for the long run. The main notion I want to convey is that there is a better future, and we are working hard on it."
Clinical Trials Link: https://clinicaltrials.gov/ct2/show/NCT02064309
Website Link: http://beta-o2.com/