SUMMARY:
JDRF released their 2016 audited financial statements in late December.
Research grant spending (the amount of money used to fund research) grew by 0.5%, from $72 million in 2015 to $75 million in 2016.
Despite the modest increase, grant spending remains at decade-low levels, down from a peak of $156 million in 2008.
The percent of income used for research grant funding, 38% in 2016, has also been sustained at record low levels for the second year in a row.
2016 income remained relatively flat at $197 million, generated primarily from fundraising activities.
This decrease in spending has not been clearly explained to donors.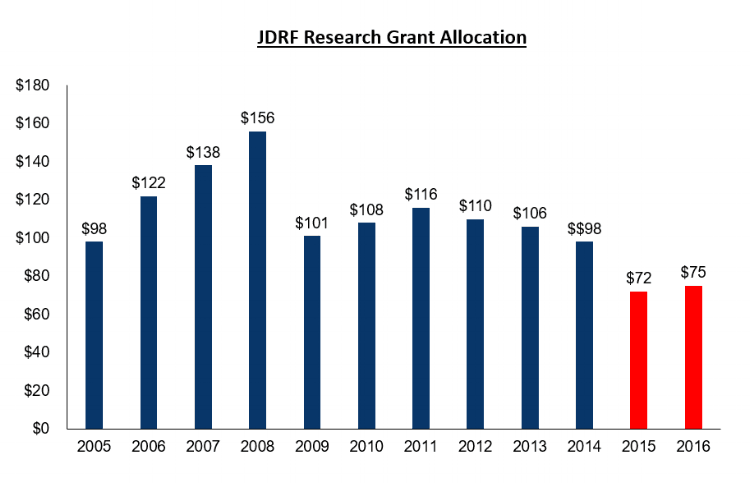 This report provides a quick overview of JDRF's 2016 research grant spending and is the first in a series of reports that will review different aspects of JDRF financial statements. These reports, based on publicly available tax and financial documents located on the JDRF website, show how JDRF generates its revenue and how it utilizes those funds. Financials are audited and approved for release by the accounting firm KPMG LLC. 
There are two key highlights related to research grant spending:
1) RESEARCH GRANT ALLOCATIONS
The main news is that research grant allocation has remained at significantly lower levels for two consecutive years, as compared to the previous 10 years (2006-2014) when the JDCA began tracking JDRF financials. The JDCA would like to acknowledge that JDRF increased their grant allocation from $72 million in 2015 to $75 million in 2016. Although this is a positive step forward, as any increase is a step in the right direction, the amount of increase is largely immaterial, as it still represents a $23 million decline from 2014, and $81 million less than the 2008 peak year. 
2) RESEARCH GRANTS AS A PERCENT OF REVENUE
Research grants as a percentage of revenue, which is an indicator of the priority level of research grants versus other areas of spending, increased by 1% from 37% in 2015 to 38% in 2016. This number is down from 44% in 2014 and 64% during the 2008 peak year (See data Chart B at the end of this report).
Our principle concern with the historic and sustained decrease in research grant funding is that the continued lack of alignment with donor priorities, if not corrected quickly, will accelerate a decline in donations.
CONCLUSION:
The small upward movement in research grant spending is largely immaterial and does not change our concern that relatively few JDRF resources are being deployed to directly fund research. During the past five years, the amount of JDRF funds allocated to research has decreased from over half of the annual income to a third. This decrease in research spending is indicative of either an intentional shift to a new strategy or a unintentional drift away from the long-standing focus on funding research grants. 
Either way, the JDCA believes this change should be clearly explained to donors.
DATA CHART B: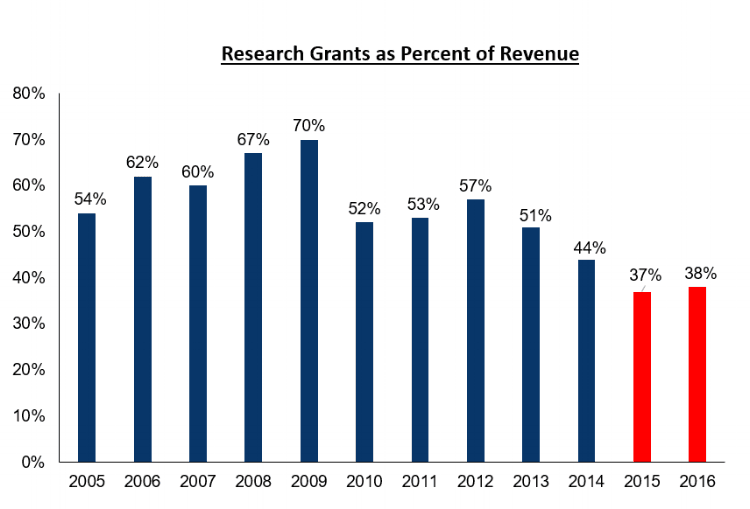 The source for this data is can be found at the following: 
https://thejdcaorg.presencehost.net/file_download/385861d2-ad38-480d-902c-dc362bfa9e46