JDRF funded 571 individual research projects in 2016, a 59 percent increase from the prior year (358 in 2015).
The biggest strategic shift from last year is a dramatic increase in the number of prevention projects, from 34 in 2015 to 108 in 2016, a 218 percent increase. Corresponding prevention dollar allocations increased by 228 percent.
The number of cure research projects currently 'in-vivo' (in animal or human testing) increased from 68 in 2015 to 108 in 2016—a move in the right direction.
The top five largest organization recipients (some with multiple research project grants) collected 24 percent ($17.5 million) of the total JDRF research grant spending budget.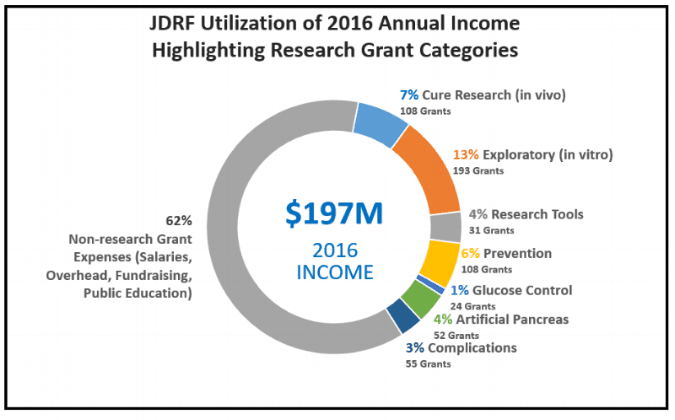 See Appendix 'A' for project counts from 2014-2016 and Appendix 'F' for research category definitions.
This is the fifth annual review of JDRF research grant allocations. The main purpose of reviewing and sharing this data is to help ensure the number one priority of donors—finding a cure for T1D—is being addressed.

In preparing this report the JDCA reviewed financial data for each of the past ten years and reviewed all 571 projects funded by JDRF during the 2016 fiscal year. The 571 research project abstracts are individually categorized by research type and development level. Source data, including research abstracts and financial information, is available to the public on the JDRF website. (Click here to view)

There are two particularly significant findings from this analysis. First, JDRF has greatly increased the overall number of funded projects. This increase reverses several years of hard work which was previously concentrated on sharpening JDRF research focus by decreasing the project count. Second, more emphasis is being placed on prevention projects, as noted in the opening bullets. Prevention efforts were given a boost last year with the identification of autoimmune markers and seem to be a 'hot' research topic at the moment. The increase in prevention research is bad news for people living with established T1D as it shifts emphasis away from cure research and practical cure research.
FINANCIAL ALLOCATION KEY POINTS (SEE HEADLINE PIE CHART ABOVE):
$197 million was the total amount of JDRF income during 2016.
38 percent of the total income was used for funding research grants. The remaining 62 percent was used for non-research activities such as operations, fundraising, and salaries.
7 percent was used for cure research currently in animal or human testing, a slight decrease from 2015.
6 percent was used for prevention projects, a substantial increase from 1.8 percent in 2015.
4 percent was used for artificial pancreas research even though much of this development has been transferred to a wide range of large and small for-profit companies.
1.2 percent was used for glucose control projects, down from 2.2 percent in 2015.
Additional Highlights:
The top 5 largest recipients collected 23.8 percent of total grant funding ($17.5 million). Two of the top five recipients are for-profit entities (see Appendix 'C' for a full list). The top five are, in order:

The University of Florida ($4m)
JDRF Canadian Clinical Trial Network ($3.8m)
University of California San Francisco ($3.5m)
Medtronic ($3.2m)
Novartis Institute for Functional Genomics, Inc. ($3.0m)

The largest individual research grant, in the amount of $3.7m, went to the JDRF Canadian Clinical Trial Network (CCTN). According to JDRF, CCTN is designed to conduct advanced clinical trials and create new partnerships between academic researchers, not-for-profit organizations, industry, and government.
The second largest grant, in the amount of $3.8m, went to Medtronic for the development of a redundant glucose sensor to be used as part of an artificial pancreas. See Appendix 'D' for a full list.
14 recipient organizations are for-profit, including ViaCyte and Beta-02 Technologies Ltd., the only for-profit projects funded by the JDRF with the potential to be a Practical Cure. See Appendix 'E' for a full list.
APPENDIX A: JDRF GRANT COUNT BY RESEARCH CATEGORY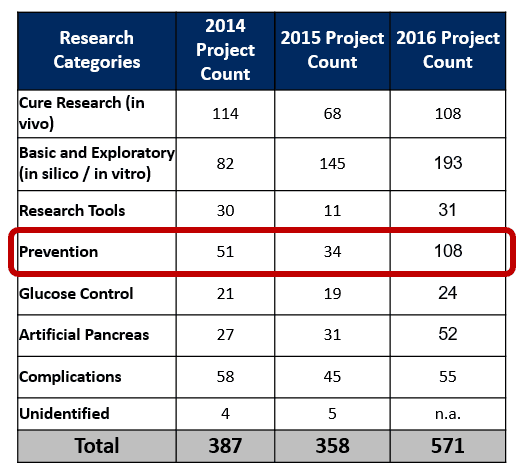 APPENDIX B: TOP 25 JDRF RESEARCH GRANT RECIPIENTS OF 2016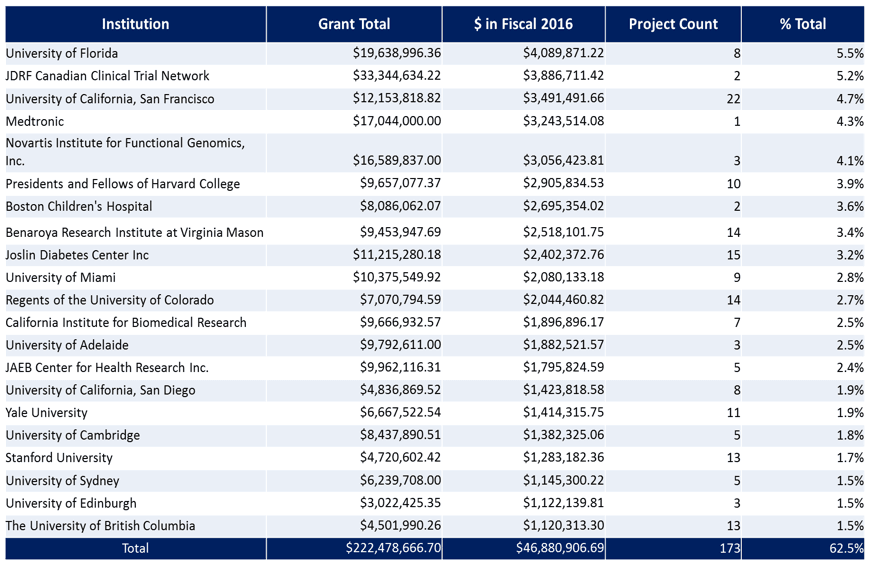 APPENDIX C: TOP 10 INDIVIDUAL PROJECT GRANTS IN 2016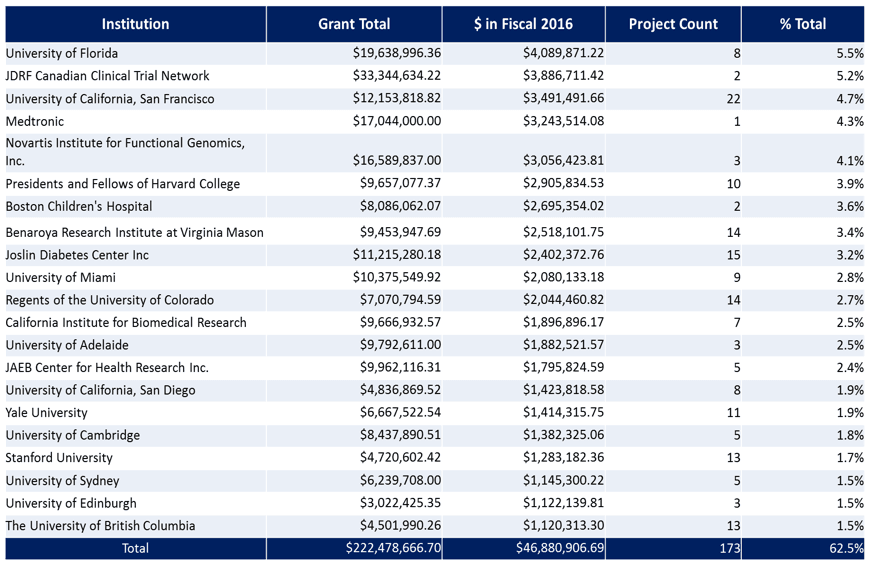 APPENDIX D: FOR-PROFIT JDRF GRANT RECIPIENTS DURING 2016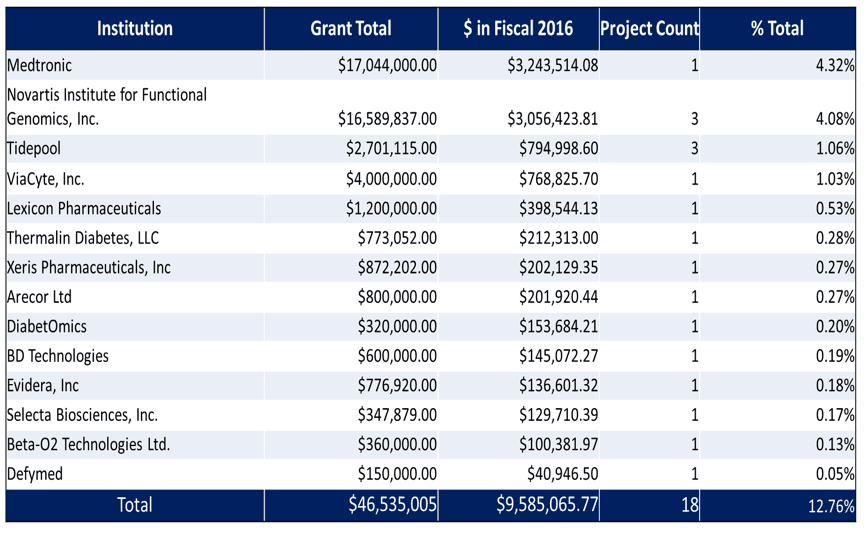 APPENDIX E: RESEARCH PROJECT CATEGORY DEFINITIONS