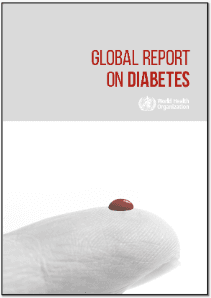 On April 6th, the World Health Organization (WHO) published its first ever Global Report on Diabetes.  It sets out to provide a comprehensive review of diabetes throughout the world and, as a result, has received a fair bit of recent press. 
Overall, the 96-page report is of limited value to the type 1 community.  Many of the sections discuss "diabetes" in general without distinction between type 1 and type 2.  The majority of the balance of the report focuses on issues specific to type 2.  However, there are a few findings relevant to people with T1D which are highlighted below.
The WHO report has four main sections; Global Burden, Prevention, Management, and National Capacity for Prevention and Control of Diabetes, and offers a global analysis of diabetes incidence, healthcare availability, and management.  The report does not address cure research or cure progress.
The analytic information utilized in the report is compiled from a large pool of academic studies conducted over the past 20 years.   It appears that a large portion of type 1-related data, which covered 60 different countries, was compiled from a study that took place from 1990 to 1999, rendering many of the facts out-of-date.
KEY POINTS SPECIFIC TO T1D:
The countries with the highest incidence and prevalence rate of type 1 diabetes are the Scandinavian nations, Sardinia, and Kuwait (see appendix 'A' for the definition of incidence and prevalence).
The incidence of T1D rose 3% per annum in high-income countries during the past several decades.
There is a major gap in insulin availability between already developed and developing nations. Insulin availability in high-income, developed nations is near universal at 96%, while only 23% of the low-income, developing nations report insulin as generally available (see appendix 'B' for graph).
Access to blood glucose measurement is also an issue in low-income countries.  Only 50% of low-income nations report that blood glucose measurement is available in primary care settings.
APPENDIX 'A':  INCIDENCE VERSUS PREVALENCE
Incidence:      
The number of new cases of a disease within a time frame, usually one year.  This is usually expressed as a rate per population (e.g., 100 new cases within a population of 10,000 results in an incidence rate of 1%).
Prevalence:    
The number of people living with a disease within a time frame, usually one year.  This is usually expressed as a rate per population (e.g., 2,000 people living with the disease in a population of 10,000 results in a prevalence rate of 20%).

 
APPENDIX 'B':  PERCENT OF COUNTRIES BY INCOME LEVEL WHERE INSULIN  IS READILY AVAILABLE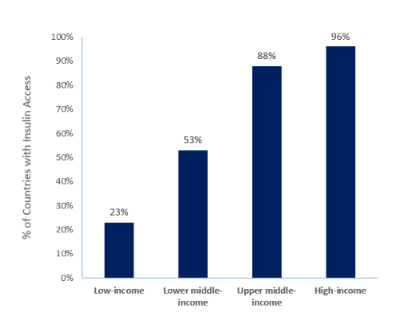 RELATED LINKS: