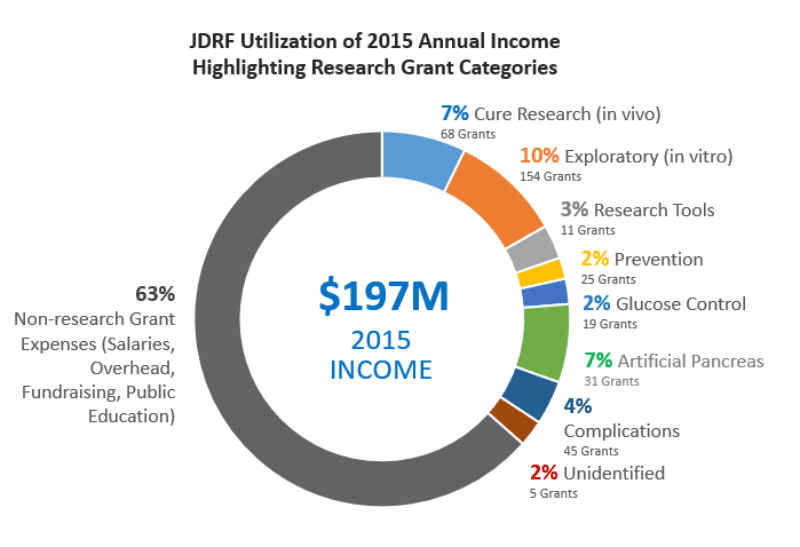 See appendix 'D' for research category definitions.
This is the fourth annual review of JDRF research grant allocations. The main purpose of reviewing and sharing this data is to help ensure the number one priority of donors -- to find a cure for T1D -- is being addressed.
In preparing the report, the JDCA reviewed financial data for each of the past ten years and reviewed all 387 projects funded by the JDRF in the fiscal year 2015.  Each of the 387 research project abstracts were individually categorized by research type and development level. Source data, including research abstracts and financial information,  are available to the public through the JDRF website.
KEY NUMBERS (SEE HEADLINE PIE CHART ABOVE):
$197 million was the total amount of JDRF income during 2015
37% of total income was used for funding research grants. The remaining 63% was used for non-research activities, such as operations, fundraising, and salaries.
5% was used for cure research currently in animal testing.
2% was used for cure research currently in human trials. 
ADDITIONAL HIGHLIGHTS:
113 organizations received grants during 2015. Many received funding for multiple projects.
The top 5 largest recipients collected 31% of total grant funding ($23 Million). Two of the top five recipients are for-profit entities (see appendix 'A' for a full list).  The top five are, in order:
The University of Florida ($5.5 Million)
Medtronic, Inc. ($4.3 Million)
University of California San Fransisco ($4.0 Million)
Novartis Institute for Functional Genomics, Inc. ($4.0 Million)
Boston Children's Hospital ($2.9 Million)
The top ten largest individual research project grants account for 30% of the total funding. The largest grant, in the amount of $4.3 Million, went to Medtronic for the development of a redundant glucose sensor to be used as part of an artificial pancreas. The second largest grant, in the amount of $3.8 Million, went to Novartis for beta cell regeneration research. The remainder of the top 10 grants went to non-profit academic centers, with a grant to the T1D exchange being the only exception.  See appendix 'B' for a full list.
14 recipient organizations are for-profit, including ViaCyte, the only major project funded by the JDRF with the potential to be a Practical Cure. See appendix 'C' for a full list.
Two grant recipients struck the JDCA analysts as particularly odd -- The Foundation of the National Institute of Health and the National Institute of Diabetes and Digestive Kidney Diseases.  Both organizations are funded by millions of tax dollars and allocated with congressional approval. The two organizations together received $150,000 from the JDRF during 2015.
APPENDIX A:  TOP 25 JDRF RESEARCH GRANT RECIPIENTS OF 2015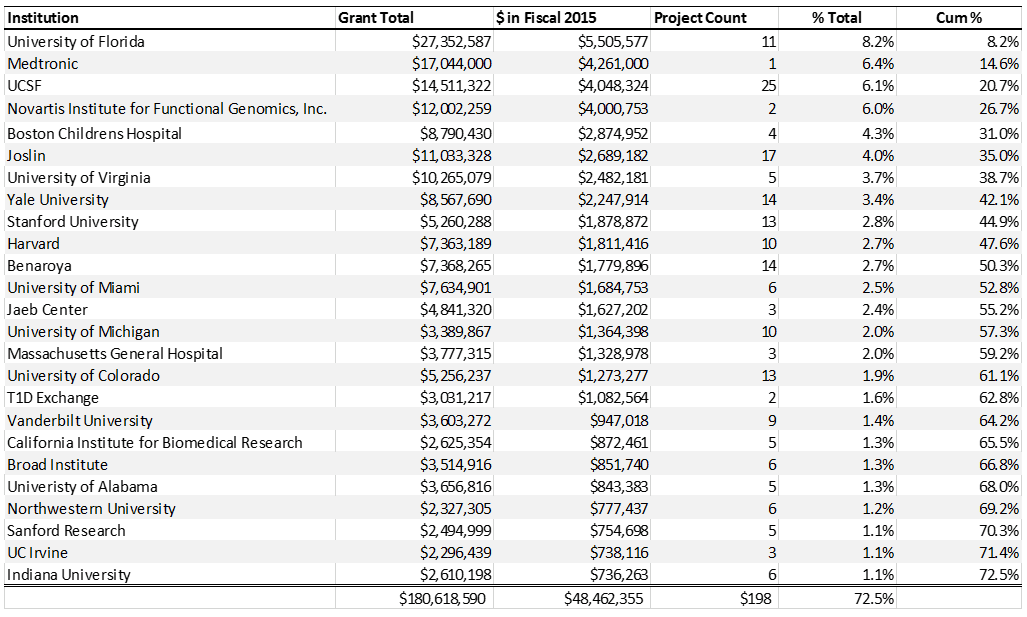 APPENDIX B:  TOP 10 JDRF GRANTS TO INDIVIDUAL RESEARCH PROJECTS IN 2015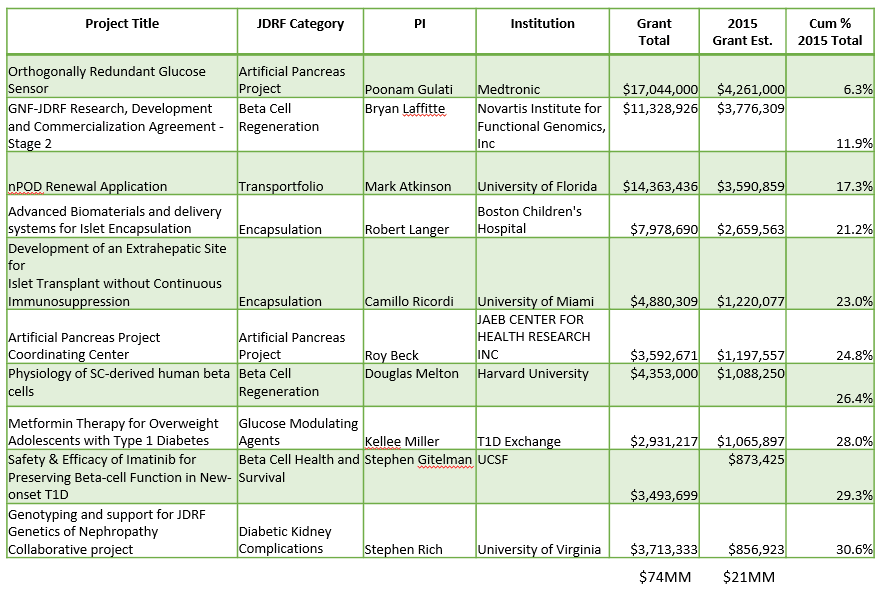 APPENDIX C:  FOR-PROFIT JDRF GRANT RECIPIENTS DURING 2015

APPENDIX D:  RESEARCH PROJECT CATEGORY DEFINITIONS