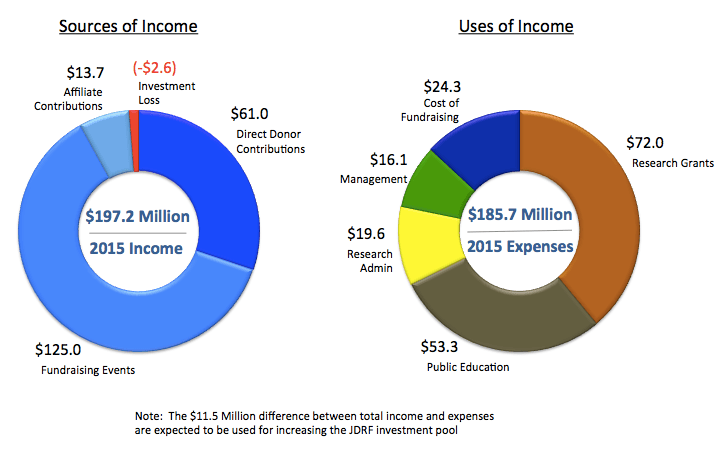 This report will reveal the key sources of income for the JDRF and the primary ways this money was used during 2015.  It is the second in a series following the mid-February release of the JDRF 2015 Financial Statements. The first report focused specifically on the significant and multi-year decline in research spending. All data is sourced directly from JDRF financial statements.
The main finding from this short report is that the directional trends of 2014 continue in 2015.  Money given to research grants drops further, reaching an 15 year low, while money used for public education reaches a 15 year high.This continued and now multi-year trend raises again the question of a drift away from JDRF's core purpose of raising money from donors to support research (the 'R' in the JDRF).
HIGHLIGHTS:  SOURCES OF INCOME
JDRF has two main sources of funding:  Donor contributions (direct, fundraising events, and affiliate) and gains from investments.  During 2014,  donor contributions provided 100% of the income while investment returns generated a loss of $2.6 Million.  See Chart 'A' above.
Total income declined by $28 Million (-12%) versus 2014.  
All sources of income dropped during 2015.  See Chart 'B'.

HIGHLIGHTS:  USES OF INCOME
JDRF reduced spending by -$29 Million between 2014 and 2015.  See Chart 'C'.
 $26 Million of the spending decline is reflected in a massive reduction in research grants from $98 Million to $72 Million, reaching a 15 year low.
The remaining $3 Million of the spending decline is due to a series of some small decreases in operational costs including payroll, meetings, rent, and promotion. 
Public Education is the only spending category that has increased reaching an 15 year high in 2015 at $53 Million Dollars and 27% of income.  See Chart 'C'.
FINAL COMMENTS:
The JDCA holds a point of view that the decline in donor contributions and the shift away from research is not a coincidence.  Donor research conducted over the past four years consistently demonstrates that the number one reason people make a donation or participate in a fundraising event is to support research.  As the JDRF shifts (or drifts) from its historical focus of funding and energizing research for Type 1 Diabetes, donors may seek giving options that are more consistent with their priorities. We believe this is not a favorable outcome and hope the JDRF will make a formal and clear commitment to materially increasing research in the years ahead.
Link to JDRF Financial Statements:  http://jdrf.org/about/financials/
CHART B:  CHANGE IN MAJOR CATEGORIES OR INCOME BETWEEN 2014 AND 2015 ($ MILLIONS)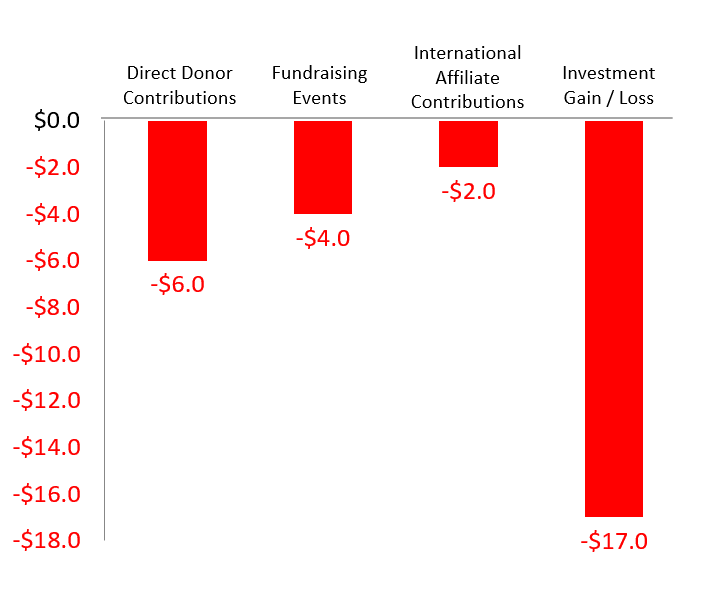 CHART C:  SPENDING ON RESEARCH GRANTS VERSUS SPENDING ON PUBLIC EDUCATION OVER TIME ($ MILLIONS)