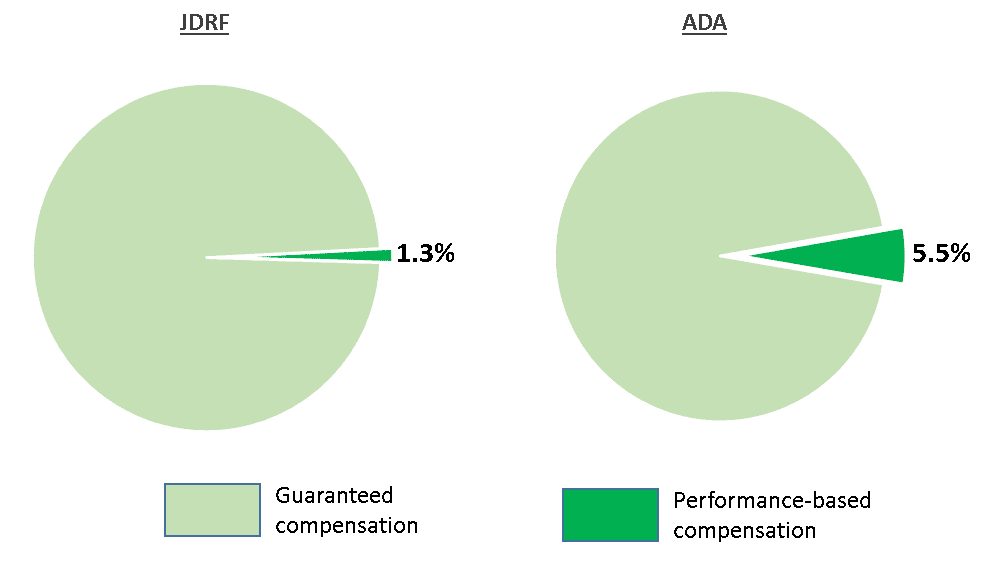 This is the JDCA's fourth annual review of executive compensation at the top diabetes non-profits.  

Key Takeaways
As in prior years, only a very small portion of executive compensation at the ADA and JDRF is directly tied to annual performance. 
The vast majority of pay is fixed and guaranteed whether or not material progress has been made toward organizational goals.
The JDRF has significantly decreased its utilization of incentive compensation. In 2012, 10% total executive compensation was incentive based.  It dropped to 1.3% in 2014.
The JDCA supports competitive compensation packages to attract and retain top talent. However, we are highly critical of the low level of performance pay.
The Board of Directors at both organizations could advance cure progress by tying a significant portion of executive compensation to performance.  Specifically, the Board of Directors should identify annual metrics related to cure progress, and award executives bonus pay for achieving those metrics
The charts below illustrates bonus pay as a percentage of total compensation for executives at each organization. The appendix tracks the organizations' use of incentive pay over the past three years.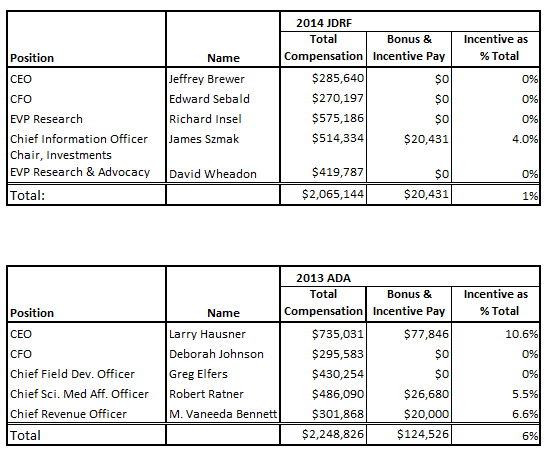 Source: 2014 Form 990 for JDRF and 2013 Form 990 for the ADA. 
 Per SEC guidelines, the chart includes compensation for the CEO and CFO, plus the top three highest paid executives.
The chart data comes from IRS documents that are publicly available on the organizations' websites. The JDCA has reviewed these forms from 2010 through the most recent year on record—2013 for the ADA and 2014 for JDRF. Since then, both organizations have appointed new CEO's whose compensation packages are not yet publicly available.

To be clear, the JDCA supports financially rewarding high-performing executives. Without competitive compensation practices, talented individuals might leave the organizations for more lucrative positions elsewhere. However, we continue to strongly believe that progress to a type 1 cure could be accelerated if a meaningful portion of executive compensation was directly related to the achievement of cure progress. By leaving incentive pay off the table, the ADA and JDRF miss out on an effective means to prioritize the cure goal that is central to each organization's mission.