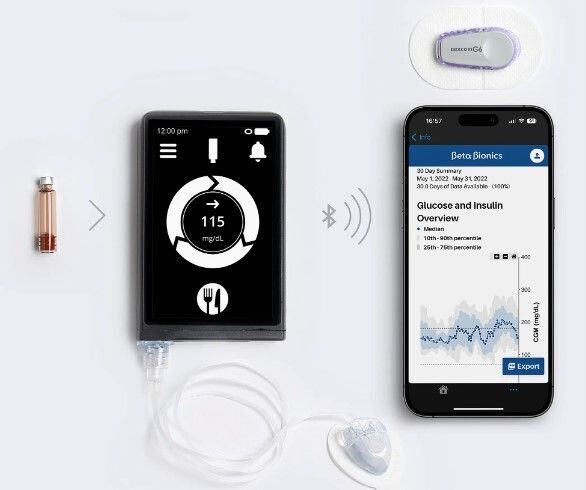 Last week, the FDA granted Beta Bionics approval to go to market with its "iLet® ACE Pump" and related dosing software. This is Beta Bionics' first product to become available as an option for people living with T1D, and it marks a watershed moment after a quarter century of developmental work. This report will look at what this means for the T1D community, the device's strengths and weaknesses, and a brief timetable of what is coming next.
Over the past decades, Beta Bionics and its founder, Dr. Ed Damiano, have often been in the news. The initial vision was to build a pump and monitor containing both insulin and glucagon that would release insulin when blood sugars rose and glucagon when blood sugars dropped. Called a "dual-hormone" pump, it would be distinct from all other pumps on the market that are single-hormone, insulin only.
Over time, Beta Bionics also developed an insulin-only pump to be used with their proprietary monitory algorithm. It is this single-hormone pump that was approved by the FDA last week. The dual-hormone pump is still in development.
The Technology
Beta Bionics' iLet® Bionic Pancreas technology has two formats, single and dual-hormone:
The insulin-only system (iLet®) consists of an insulin sensor, a hand-held touch-screen device, and an insulin pump.

The hand-held device is about the size of an iPhone and has an insulin reservoir of 1.8mL (180 units). This product has been approved for market.
The dual-hormone system (iLet DuoTM) has the same components but also contains additional space for a glucagon cartridge and a separate pump. The technology embedded within this device uses a self-learning algorithm to adjust levels of insulin and glucagon based on a user's current glucose levels.

This product is still in development.
Both devices claim to require only minimal input, needing only the patient's weight when first using the system and general information on the size of the user's meals. After that, the algorithm is adaptive and self-adjusts. When a user is about to eat, they will alert the system and provide information regarding whether the meal is breakfast, lunch, or dinner, as well as an estimate of whether the carb content is usual, larger, or smaller than a typical meal of that type. The iLet® does not require detailed information about carbohydrate content or prior levels of insulin dosing.
Performance Results and Expectations
Trial results indicate that the single-hormone pump delivers a few modest benefits over existing technology. Time in range was 2.6 hours greater and HbA1c levels lowered by 0.5 points. In addition, there were fewer hypoglycemic episodes noted and, according to Beta Bionics, 60% of patients reported that the iLet® was better than their current system.
The dual-hormone system iLet DuoTM has yet to reach clinical trials. However, Beta Bionics claims that the dual-hormone pump will result in a full point reduction of HbA1c levels versus current systems and will deliver a 40mg/dL drop in average glucose levels. This would be a terrific outcome if it can be delivered.
Dual-Hormone Pipeline to Market
Beta Bionics says that the timeline to market is at least 18-24 months. The company hopes to begin an 18-month-long clinical trial of the dual-hormone system sometime this year. On one hand, this is hopeful and encouraging. On the other hand, this 18-24-month estimation is the same that was given to the JDCA and shared in reports dating back to 2012.
The critical path and challenge for this device is the use of glucagon. Twenty years ago, all glucagon required temperature control and was stored in a refrigerator. Advances since then have enabled shelf-stable glucagon to reach the market in many different formats—nasal, pen, etc. These advances make it possible for a dual-hormone pump.
However, the novel use of automated glucagon delivery still presents many open questions. There is very little data about the impact of continuous low-level dosing of glucagon over the long term, except for what Beta Bionics has gathered over the past decades. Using that data alone, the company strongly believes the long-term administration of glucagon to be safe and effective. Ultimately, this will be the FDA's decision.