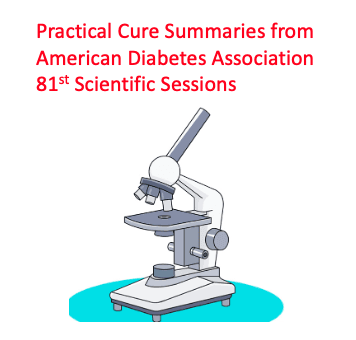 The American Diabetes Association (ADA) virtually hosted its 81st annual Scientific Sessions last weekend. The conference is one of the year's most important events for T1D research as it brings top researchers from around the world together to publish, debate, and discuss their latest findings.

As in prior years, the focus of the conference leaned towards type 2 diabetes. Out of 1,491 published abstracts, just 350 (23%) directly addressed topics related to curing or managing T1D. The rest focused on T2D or complications which arise from living with general diabetes. However, one of the most talked about presentations of the conference was a potential T1D Practical Cure story. ViaCyte, a San Diego-based company, shared promising early results from its trial in people with high-risk T1D testing insulin-producing cells derived from stem cells.

This report will round up all the major T1D cure news emerging from the conference, and provide implications and development timing when possible.

Major T1D Cure Storylines from the 81st ADA Scientific Sessions

ViaCyte results declared by scientists as "proof of concept" for stem cell-derived beta cell research.
Patients in ViaCyte's VC-02 trial are implanted with stem cells which grow into insulin-producing cells within the body. The patients are required to take immunosuppressive drugs so their bodies do not reject the cell transfer.
Early data from one patient showed that while ViaCyte's cells survived and maintained functionality, they did not produce enough insulin to eliminate the patient's need for external insulin administration.
Although the cells didn't enable full insulin independence, the scientific community cited the cells' survival and capacity to produce some insulin as a "proof of concept" that stem-cell derived islets can replace external insulin therapy for patients with T1D.
From a patient perspective, there are two big remaining challenges for the field of stem-cell-derived beta cell replacement therapy: achieving enough mass or improving the effectiveness of cells to replace the body's capacity to produce insulin, and protecting these cells in the body without the need for full-body immunosuppression.
ViaCyte has a separate human trial in which their stem cell-derived beta cells are shielded by an immunoprotective membrane which eliminates the need for immunosuppressive drugs. This trial began earlier this year; the company has not yet shared any data.
Sernova shared that one immunosuppressed patient implanted with its Cell Pouch scaffold has been off insulin for 14 months.
Sernova, a company based in Ontario, Canada, presented data of six high-risk T1D patients enrolled in the clinical trial of its Cell Pouch product.
The patients in this trial were required to take immunosuppressive drugs, and the islets within the scaffold were sourced from cadavers.
The one patient who has been through the entire study protocol has been completely insulin independent for 14 months.
In order for this product to be a viable T1D Practical Cure option, Sernova must find a more available supply of islets than those donated from cadavers, and figure out how to protect these cells without full-body immunosuppressive drugs.
Prominent scientists argued that the FDA's regulation of islet cell transplantation as a drug instead of an organ transplant will stifle research progress.
Islet cell transplantation surgery is currently available to people with high-risk diabetes in many countries around the world, including Canada and most European countries.
In the US, the Food and Drug Administration (FDA) is currently considering a Biologic License Application (BLA) that would grant a Chicago-based company the exclusive patent to manufacture donated cadaverous islets as though they are a drug, not an organ.
Dr. Camillo Ricordi from the University of Miami and Dr. Pitor Witkowski from the University of Chicago voiced ethical and practical concerns with this decision, claiming that it could stifle the development of islet cell transplantation in the United States.
JDRF laid out a sharpened strategy for beta cell replacement research.
JDRF's Assistant VP of Research, Dr. Esther Latres, advocated for further research to increase beta cell health through methods that do not involve full-body immunosuppression.
According to her talk, four current strategies to protect these cells include:

Encapsulating new beta cells in a physical barrier which protects them from being attacked by immune cells.
Implanting new beta cells in a scaffold which ensures they have sufficient oxygen to survive.
Reducing or eliminating the immune system's attack on transplanted beta cells by using targeted immunotherapy.
Editing stem-cell derived beta cells so they are evasive to the autoimmune attack.
Additional Newsworthy Updates