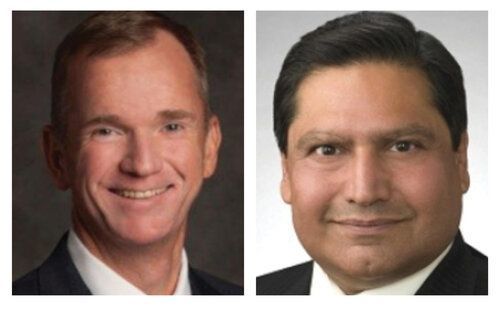 Pictured: JDRF Board Chair Joesph P. Lacher (left) and ADA Board Chair Umesh Verma (right)
Today, non-profit executives and their boards of directors face unprecedented challenges. COVID-19 has brought traditional fundraising to a halt, presenting many non-profits with existential questions about how they will fulfill their mission and serve their donors in a time of financial regression. It is an essential responsibility of a board of directors to address these concerns.
In the T1D non-profit space, JDRF and the ADA have not been spared from these challenges. JDRF has indicated that it anticipates a 40% decline in revenue and is in the process of implementing widespread structural changes. The ADA, which has already faced a 50% loss in revenue of the past 15 years, is less transparent about how it is addressing the current environment.
Organizations with the foresight and discipline to plan for potential crises can respond thoughtfully and strategically. Those that do not are often required to make sweeping and dramatic changes during times of crisis in structure, staff, priorities, and mission fulfillment. These changes, when made in haste, can have a lasting impact on the culture of the organization. While no one could have anticipated the magnitude of the COVID crisis, the board of directors is responsible for ensuring that the top-level management is disciplined in how it plans for crises and that the mission of the organization is uninterrupted.
This report will examine the structure of the ADA and JDRF Boards and offer recommendations for how to maximize efficiency in a time of turmoil.
Big Changes on the JDRF Board
Earlier this summer, JDRF reduced the size of its Board of Directors from 35 to 15. This is a major change, one which moves JDRF's board size closer to the highest performing organizations in both the for-profit and non-profit world.  A smaller board enables the kind of active debate and individual accountability necessary to drive the organization towards exceptional performance. This reduction is in line with JDCA recommendations over the past ten years and has the potential to increase the efficiency of the organization.
With fewer members, there is an opportunity for higher engagement and input from the individuals who sit on the Board. Each member now has a louder voice and a greater responsibility to move JDRF into the strongest possible position to deliver the organization's mission. We urge the leaner Board to harness this environment of change to restore research spending back to historic levels and to ensure that JDRF remains fully focused on T1D.  
Over the past fifteen years, research spending has declined at JDRF, a concerning trend for the T1D community. A recommitment to increasing the research budget would be welcomed by donors who, when surveyed, state that funding T1D-cure research is the primary reason they give.
Perhaps more concerning than the decline in research spending is JDRF's recent statements on their intention to expand the organization's mission to include T2D and other autoimmune diseases. Expansion into other diseases will result in the dilution of JDRF's focus on T1D. It is the job of the Board of Directors to ensure that JDRF is focused on funding cure research for T1D.
Five Recommendations for T1D Nonprofit Boards
The following recommendations are informed by best practices from the corporate world but acknowledge the unique circumstances of the non-profit:
Hold board members externally accountable. Non-profit board members can only be appointed or removed by fellow board members, which consolidates power in an insulated bubble. Board member elections by a broad base of donors would create accountability and ensure alignment with the donor base.
Deploy resources in line with donor priorities. While JDRF and the ADA do not currently engage any public dialogue with their donors, JDCA surveys over the past five years show that nine out of ten T1D donors want cure research to be the top priority for diabetes charities. Without regular donor surveys and a continued dialogue in which donor sentiment is gauged, the ADA and JDRF will continue to be misaligned with the goals and wishes of their donors.
Consider a "say on pay" executive compensation structure. A "say on pay" model or initiative would allow donors to vote on specific aspects of executive compensation such as pay structure, base pay, and bonus amounts. The JDCA believes a "say on pay" model could deliver T1D non-profit donors many of the same benefits it provides for-profit company shareholders, such as increased transparency and executive accountability.
Make transparent annual measures to track cure progress. Clear and transparent executive performance metrics against cure progress must be put in place, enabling the board to hold executives accountable for tangible performance towards established goals.
Report in a more frequent, timely, and comprehensive manner. JDRF and the ADA only communicate performance in annual reports that come out roughly six months after the year-end. More regular, comprehensive reporting on progress would allow donors to stay up to date about progress and make informed giving decisions. Additionally, better communication practices would deepen trust with donors, which would ultimately boost donations.
Find out more about JDRF International Board members here. 
Find out more about the ADA Board members here.