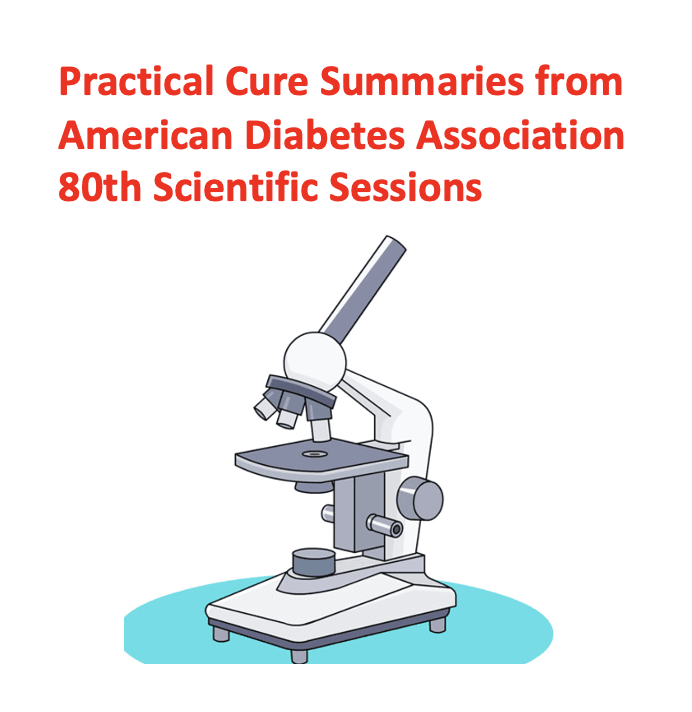 The American Diabetes Association's 80th Scientific Sessions, the largest US-based diabetes research conference of the year, was held virtually June 12-16.
The virtual conference consisted of e-posters, published abstracts, oral presentations, and a virtual 5K run. The 2,409 research abstracts (summaries of key research findings) and 233 formal presentation sessions focused primarily on type 2 diabetes. Among research abstracts, 368 directly addressed type 1 diabetes – about 15% of the total. Among formal presentation sessions, 20 specifically addressed type 1 diabetes – nine percent of the total.
There were no new T1D Practical Cure (PC) projects announced at the conference nor updates to ongoing PC projects.
Key T1D Highlights
During the conference, many researchers and companies announced positive results of glycemic control, diabetes management, and T1D prevention or delay studies. There was no news about cures, either today or in the near future, for people living with T1D. The major news related to T1D is summarized below.
Announcements from companies pursuing closed-loop pump therapies:
The day before the conference started, Medtronic announced it received approval to sell its MiniMed 780G advanced hybrid closed loop (AHCL) system in EU countries starting in the Fall. At the conference, the company presented data showing that the 780G can treat to a lower target BG than competitors without increasing the risk for hypoglycemia.
The Omnipod 5 (previously called the Omnipod Horizon) algorithm lives on a tubeless pod which delivers insulin subcutaneously and communicates directly with a Dexcom G6 CGM. It is Insulet's first closed loop device.
Tandem Diabetes presented real-world data for its Control-IQ system, an algorithm that is the first to automatically make insulin dosing decisions by pairing with a CGM in order to predict blood glucose changes 30 minutes before they happen. Tandem was able to show that its early users have increased their time-in-range without experiencing additional hypoglycemic episodes. 
TEDDY (Trends in Glycemic Control Among Youth in Diabetes) study results underscore the need for a T1D cure:
The SEARCH for Diabetes in Youth Study presented data at the conference which showed that despite the increased availability of diabetes technology, new therapies, and more aggressive control targets, today's young adults and youth have slightly worse glycemic control than previous youth and young adult groups from 2002-2007. 
 Lack of access to tools and T1D education drive up HbA1C numbers:
Dr. Jill Weissberg-Benchell presented data from 2018 showing that between 70%-90% of T1D patients do not wear a CGM and another study from 2015 showing that half do not wear an insulin pump. Most of the T1D population is, she concluded in her lecture, "technologically naive." Specifically, she pointed out racial disparities in T1D clinical care, reporting that African American and Latino youth are less likely to be offered an insulin pump, less likely to be told to test blood glucose 4x/ day, and have, on average, higher A1Cs than the mean.
Updates to major stories from last year's conference:
Teplizumab has continued to deliver results and now is hypothesized to delay the onset of T1D for approximately three years.
Zealand Pharmaceuticals shelf stable glucagon: The company cited three additional human studies which show its temperature stable glucagon can rescue users from severe hypoglycemia within 10 minutes.
Beta Bionics, who is producing a dual hormone closed-loop AP called the iLet Bionic Pancreas, did not publish new clinical data from the pump at this year's ADA Conference.
Related Links:
80th Scientific Sessions Homepage: (Click here to view)