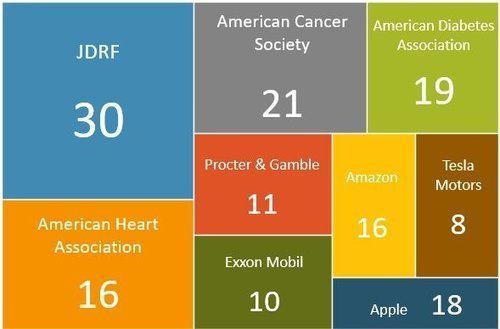 Appendix A: A Relative Comparison of the Size of the Board of Directors at Non-Profit and For-Profit Organizations in 2019
As the highest governing body, the Board of Directors at the major T1D non-profits are responsible for establishing the organization mission and values, setting the strategic direction, overseeing executive leadership, and allocating resources.
Currently, the ADA and JDRF board operations are not publicly disclosed and there is no mechanism for donor input. Board members at the ADA and JDRF have a fiduciary duty to fulfill the priorities of donors and shoulder the responsibility for keeping the organization on track. This is the group of people who are ultimately responsible for the decline in research grant spending levels.
The JDCA offers six key recommendations about how to improve the performance of the boards. These recommendations are informed by best practices from the corporate world but acknowledge the unique circumstances of the non-profit. The recommendations are as follows:
Hold board members externally accountable. Non-profit board members can only be appointed or removed by fellow board members, which consolidates power in an insulated bubble. Board member election by a broad base of donors would create accountability and ensure alignment with the donor base.
Decrease the number of members on the non-profit boards. As shown in the opening chart, JDRF has 30 directors and the ADA has 19. In contrast, effective boards in many high-performing organizations have between 8 and 14 members— large enough to bring a range of skills and experience to the table but small enough to maintain a meaningful and fully engaged discussion.
Deploy resources in line with donor priorities. In a 2019 JDCA survey asking donors how contributions raised at T1D fundraising events should be utilized, 85 percent of walkers surveyed said that they want the majority of funds raised at walks to be used for cure research. 97 percent of walkers surveyed said cure research should be the top priority for diabetes charities. However, in the same year only 37 percent of JDRF's, and only 16 percent of the ADA's annual income was spent on research. Without regular donor surveys and a continued dialogue in which donor sentiment is gauged, the ADA and JDRF will continue to be misaligned with the goals and wishes of their donors.
Consider a "say on pay" executive compensation structure. A "say on pay" model or initiative would allow donors to vote on specific aspects of executive compensation such as pay structure, base pay, and bonus amounts. The JDCA believes a "say on pay" model could deliver T1D non-profit donors many of the same benefits it provides for-profit company shareholders, such as increased transparency and executive accountability.
Make transparent annual measures to track cure progress. Clear and transparent executive performance metrics against cure progress must be put in place, enabling the board to hold executives accountable for genuine performance toward the ultimate goal. As shown in the last JDCA report, only 10 percent of JDRF and 6 percent of ADA's executive compensation is tied to performance metrics.
Report in a more frequent, timely, and comprehensive manner. The non-profits only communicate performance in annual reports that come out roughly six months after the year-end. More regular, comprehensive reporting on progress would allow donors to stay up to date about progress and make informed giving decisions. Additionally, better communication practices would deepen trust with donors, which would ultimately boost donations.
---
JDRF INTERNATIONAL BOARD OF DIRECTORS FOR FISCAL YEAR 2019
Ellen Leake: Chair, International Board of Directors
Jeff Plumer: Vice Chair, International Board of Directors
Claudia Graham
Michael Alter
Jennifer Schneider
Joanna Martz
Matt Varey
Grant Beard
Aaron J. Kowalski
Joseph P. Lacher
Sandra Hijikata
Srinivas Mishra
Steven Davis
Alisa Norris
Cynthia Rice
Jill Clark
Katie Ellias
Gil King
Courtney Davies
Sridhar Thodupunoori
Nikki Bodnar
Margery D. Perry
Sanjoy Dutta
Lisa Popyk
Shawn Reynolds
Sadia Tameez
Christopher Turner
Lisa F. Wallack
Paul Heath
Susan Yun
---
THE ADA INTERNATIONAL BOARD OF DIRECTORS FOR FISCAL YEAR 2019
Tracey D. Brown: CEO
David Herrick: Chair of the Board
Gretchen Youssef: President, Health Care & Education
Brian Bertha: Secretary/ Treasurer
Umesh Verma: Chair-Elect
Louis H. Philipson: President, Medicine & Science
Mary de Groot: President-Elect Health Care & Education
Martha Parry Clark: Secretary/ Treasurer-Elect
Robert H. Eckel: President-Elect, Medicine & Science
Janet Brown Friday
Jean O'Connor
Otis W. Kirksey
Robert M. Cuddhy
Sherita Hill Golden
C. Ronald Kahn
Cynthia E. Muñoz
Christopher K. Ralston
Julio Rosenstock
Glen Tullman