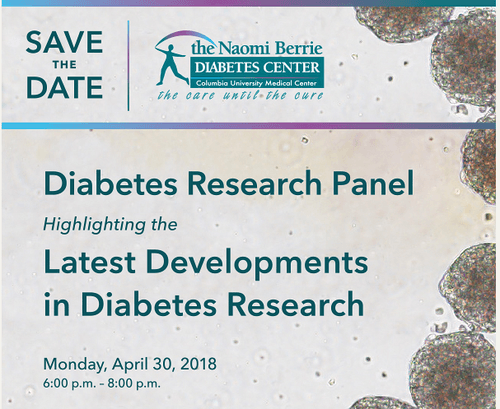 Yesterday, the Naomi Berrie Diabetes Center at Columbia University hosted a research panel discussion in New York City. Highlights of that meeting are presented in this report. Naomi Berrie is a leading diabetes research center and clinical care provider which boasts over 50 investigators.

The format of the meeting was a discussion featuring six panelists. The panelists were:
Dr. Robin Goland, Co-Director of Naomi Berrie and Professor of Medicine and Pediatrics
Dr. Rudy Leibel, Co-Director of Naomi Berrie and Head of the Division of Molecular Genetics
Dr. Domenico Accili, Director of the Columbia University Diabetes and Endocrinology Research Center and Co-Founder of Forkhead BioTherapeutics, Inc.
Dr. Andrea Califano, PhD, Clyde and Helen Wu Professor of Chemical and Systems Biology in the Departments of Biochemistry and Molecular Biology
Dr. Rui Costa, PhD, Professor of Neuroscience, Chief Executive Officer Zuckerman Mind Brain Behavior Institute
Charles Queenan, Co-Founder, and CEO of Forkhead BioTherapeutics, Inc. a biotechnology company founded to advance Dr. Accili's work on a "transformational oral therapy for insulin-dependent diabetes to the clinic."
Each researcher spent 10-15 minutes sharing the progress of their work and then the panel accepted questions from the audience. The discussion lasted roughly two hours. Representatives from both JDRF and the ADA were in attendance.

Topics were wide-ranging and mostly related to the area of expertise of the panelist speaking. There were two key takeaways for the JDCA audience:
Development of an Oral Drug
The largest point of discussion at the conference was Dr. Accili's research in which he was able to teach gastrointestinal cells to produce insulin. To date, Accili's research has not been tested in humans but it did show positive results when tested in mice. Although this therapy is not considered a Practical Cure, if successful, it has the potential to eliminate insulin injections.

When an update of Accili's research was publicized last year most articles defined this research as a type 2 therapy. However, when discussed at the research update, it was largely explained as a therapy for type 1. This remains an open question.

Queenan, the only non-researcher in the panel, spent his portion of the discussion talking about Forkhead and his role in turning this research into an oral drug for clinical use. The work was described as being in the early stages, but the team was "cautiously optimistic."

The discussion around drug development was a notable contrast from last year's update and a positive indication that Naomi Berrie is focused on translating research into a usable therapy for diabetes.

The research panel did not provide a timeline for starting clinical trials but Accili noted, "Every year people ask me when? The time is now…we are going to go as fast as we can without compromising safety or efficacy."

No Practical Cure Research Discussed
There was no discussion on any current or planned research related to a Practical Cure.