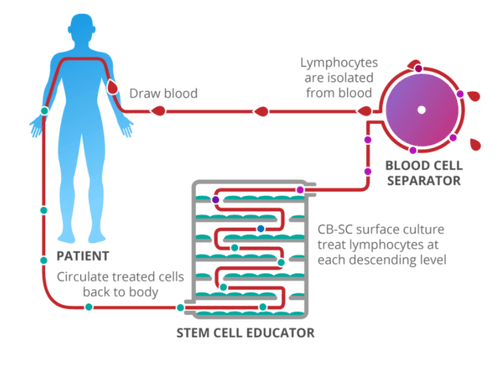 The Stem Cell Educator (SCE) project is one of eleven T1D Practical Cure projects currently in human trials.
A report published in 2017 which followed patients for four years after one SCE treatment reported mixed results:

Two patients with early-onset T1D achieved and maintained insulin independence for four years after receiving one SCE treatment.
Seven patients with fully established T1D did not see materially significant increases in insulin production after one treatment.

A phase II 100-person trial testing two SCE treatments has begun recruiting patients in China. It's estimated completion date is December 31, 2020.
Dr. Zhao, the primary PI, plans to start a phase II trial in the United States sometime in 2018.
This report provides an update on the Stem Cell Educator project and features an interview with the principal investigator Dr. Yong Zhao. Stem Cell Educator technology has been licensed by Tianhe Stem Cell Biotechnologies, Inc., a private for-profit company, with the goal of bringing the technology to market.

Research Overview

SCE therapy is an immune system retraining method. The treatment attempts to stop the T1D autoimmune attack by modifying a person's lymphocytes (white blood cells comprised of T cells) so they no longer attack insulin-producing beta cells.
 
Research participants undergo a three-part treatment as illustrated in the picture above. First, blood is drawn from the patient and the white blood cells are isolated and separated out. Then, over several hours, the cells are passed through the Stem Cell Educator, a medical instrument consisting of multiple levels of Petri-dishes containing umbilical-cord stem cells. Zhao's theory is that the stem cells can retrain the lymphocytes so they no longer attack insulin-producing beta cells. Finally, the treated blood is returned to the patient. Zhao believes that once the T1D autoimmune attack is stopped, remaining beta cells will be able to regenerate and produce insulin.

One key benefit of this process is that it uses the person's own blood supply which minimizes the introduction of any foreign substance into the body. The procedure takes place in the hospital and takes two to three hours. It is minimally invasive and uses an IV for the initial blood draw and again to return the treated blood back to the patient.
Human Trial Testing

As noted above, Zhao recently released follow-up data which tracked patients from a phase I 15-person trial in China for four years after one SCE treatment. Zhao noted three main takeaways from the follow-up data:

First, the long-term safety of SCE therapy was demonstrated over four years. Second, two early onset T1D participants (one female having T1D for eight months and another male having T1D for five months) achieved normal fasting C-peptide levels and remained completely insulin independent for four years.

Third, seven patients with fully established T1D for four years showed statistically insignificant increases in insulin production. The research paper concludes that a single treatment is not enough to produce the desired increases in insulin production and patients with fully established T1D will require a second treatment.

The newly started phase II trial in China, mentioned above, will test two SCE treatments given two months apart to roughly 50 patients with T1D. Zhao plans to report intermediate data from this trial sometime before the end of 2018. He also plans to start a phase-II trial in the United States later in 2018.

Clinical Trials Link: https://clinicaltrials.gov/ct2/show/NCT03390231

Stem Cell Educator Website Link: http://www.tianhecell.com/