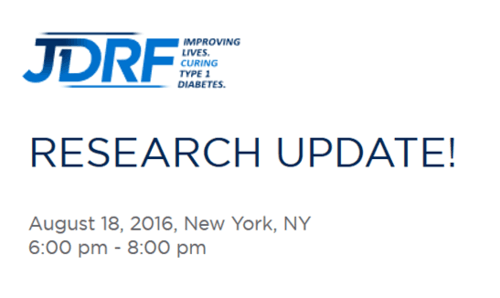 Last night the JDRF hosted a research update in New York City to discuss key developments in type 1 diabetes research and the organization's areas of focus. This report provides a brief overview of the event and includes key highlights.
GENERAL OVERVIEW:
The event was held in Manhattan and was attended by roughly 40 people.  It featured one speaker, Julia Greentstein, who is the JDRF Vice President of Research, and covered a range of topics, including:
Encapsulation
Prevention
Redefining T1D
T1D Progression
Beta Cell Restoration
Immunotherapies
KEY HIGHLIGHTS:
Research Funding: Early in the meeting Greenstein stated that "the vast majority of dollars we are spending is going to research."  This statement does not appear accurate. As we have noted in the past, 2015 JDRF audited financial statements show that only 37% of the JDRF annual budget was used for research. We hope that Greenstein is right and that we will see a majority of funds used for research when the 2016 financials are released next winter.
Viacyte: Viacyte was highlighted as a key success and an example of encapsulation progress. Greentstein stated that Viacyte began testing in humans during 2014 and was still ongoing but did not communicate any interim results. When asked during Q&A about the project timetable she stated that if the device works a product could be on the market by 2020 -- emphasizing that this was the earliest possible to-market date. 
Smart Insulin: Greenstein noted that a Merck phase 1 safety trial is ongoing but did not reveal any early results.  She also noted that there is a trend for pharmaceutical companies to minimize public exposure for phase 1 trials and that this project is no exception. The JDCA's last report of clinical trial progress noted that the Merck project was expected to complete in July 2016.
Beta Cell Regeneration: This topic was covered briefly, focusing on survival, immune therapies, and cell protection. No major successes were highlighted.
T1D Incidence:  The number of youths diagnosed with T1D is expected to increase 3.3 fold by 2050. 
Redefining the Point of Diagnosis:  Greenstein pointed to a JDRF sponsored study which argues that the point of diagnosis of a person with T1D should start at a pre-symptomatic phase rather than waiting until symptoms are fully present. The paper is titled, "Staging Pre-symptomatic Type 1 Diabetes: A Scientific Statement of JDRF, the Endocrine Society, and the American Diabetes Association." (Click here to view)
nPod: The speaker also discussed the importance of JDRF's nPod initiative, which maintains a network of procuring pancreas tissue that can be used to study and determine the pathogenesis of the disease.