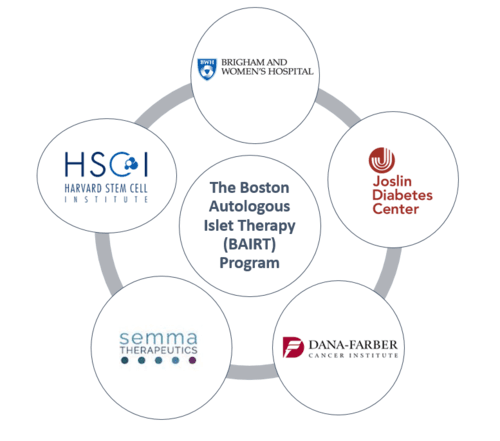 A new and noteworthy collaboration among five Boston-area research centers was announced last week with the goal of finding a cure for T1D. The focus of the joint effort is to move T1D stem cell research from animal testing, where it sits today, into widely available practical treatments. The new partnership is called the Boston Autologous Islet Replacement Therapy Program (BAIRT), and it will build upon the research results published by Doug Melton's team at the Harvard Stem Cell Institute (HSCI). 
The collaboration is meant to leverage the unique skills and capabilities of each of the institutions:
HSCI: Expertise in creating fully functioning beta cells from an embryonic stem cell line
Joslin: Deep practical history of both research and clinical patient support for diabetes
Dana-Farber: Leader in working with autologous stem cells, sourced from bone marrow, currently used for cancer therapy
Brigham and Women's: Extensive clinical care and treatment facilities
Semma Therapeutics: A for-profit company founded by Melton with the purpose of commercializing stem cell treatments for T1D
Melton, an HSCI and Semma Therapeutics Director, describes the rationale for the partnership: "No one institution anywhere has the expertise and technical abilities to make this kind of clinical trial possible but in the unique Harvard biomedical ecosystem we are able to bring all the necessary expertise and infrastructure to bear."
The JDCA applauds the BRAIT initiative and its direct focus on a cure for T1D. HSCI's stem cell research was identified previously by the JDCA as a practical cure, and we are delighted to see more muscle and emphasis being put into bringing these advances to market as quickly as possible. The JDCA hopes the leadership and example set by the collaborative will spark more interest in collaboration throughout the global T1D research community.
RELATED LINKS:
Harvard Gazette Press Release: http://news.harvard.edu/gazette/story/2016/06/first-area-cell-transplantation-center-seeks-to-treat-diabetes/