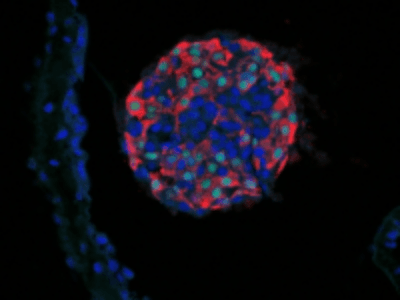 This week the diabetes news outlets and a number of mainstream ones carried stories about a research breakthrough that would make a cure for type 1 diabetes imminent.  These stories followed an article published in two academic journals --  Nature Medicine and Nature Biotechnology -  on Monday January 25.  Links to both articles are posted at the end of this report.
The articles reported that a team of researchers from the Harvard Stem Cell Institute (HSCI) and the David H. Koch Institute for Integrative Cancer Research at MIT have made major advancements in islet cell transplantation.  The team blended cutting-edge developments in cell supply and cell protection.  The team from Harvard, led by Doug Melton,  provided fully functioning beta cells derived from a human embryonic stem cell line (SC-β cells) while the team from MIT, led by Dan Anderson, provided encapsulation technology.   
RESEARCH HIGHLIGHTS:
SC-β cells were created from an embryonic stem cell line in a laboratory setting at the Harvard Stem Cell Institute
The SC-β were encapsulated with a material modified from brown algae called trizzole-thiomorphoiline (TMTD),   This material was determined after the researchers evaluated over 800 different materials in both mice and non-human primates. TMTD proved resistant to scarring which has been the downfall of previous alginate-derived encapsulation efforts.
The encapsulated cells were transplanted into mice with fully developed type 1 diabetes.
After the transplantation procedure, the mice were insulin independent and maintained healthy blood glucose readings for 174 days, the entire length of the study.  These are favorable results. 
Stated next step is testing TMTD encapsulated SC-β cells in non-human primates but no target dates are specified. 
CONCLUSION:
This research seems promising and moves us in the direction of a Practical Cure.  It is positive to see testing that combines both cell supply and cell protection in one package. 
However,  there have been many reports over the years of type 1 diabetes  being cured in mice that clearly did not translate to humans.  Thus, caution must prevail until proven in human trials. Our hope is that initiatives like this one move into human trials as quickly as possible and without delay.  Considering that the journey through human trials to FDA approval requires nearly 15 years on average, speed is of the essence.  At this point, the researchers have not indicated a pathway or timetable to human trials.
LINKS:

http://www.nature.com/nm/journal/vaop/ncurrent/full/nm.4030.html
(Nature Medicine)
 
http://www.nature.com/nbt/journal/vaop/ncurrent/full/nbt.3462.html
(Nature Biotechnology)
http://thejdca.org/new-page-1-1-2-1
(previous JDCA article on Doug Melton's work with additional links)