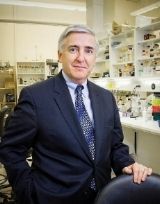 JOSLIN DIABETES CENTER RELEASED ITS CEO OF 4½ YEARS ON MONDAY. ALTHOUGH DETAILS ARE LIMITED AND THE NEWS IS STILL FRESH, HERE ARE A FEW HIGHLIGHTS:
On September 8th Joslin Diabetes Center announced that John Brooks would "step down as president, chief executive officer, and member of the Board of Trustees," effective immediately.1
Brooks had been CEO since 2011. Prior to that, he was a healthcare entrepreneur and venture capitalist.
A successor to Brooks has not yet been named. The current CFO, Eliot Lurier, will be interim CEO until the position is filled.
The reasons for this change have not been publicly stated. The Boston Globereports that Joslin did not provide an explanation to Brooks, who said "I was as shocked as anyone that the board made the decision to request my resignation."2 Joslin did not respond to requests for further clarification.
While we are surprised at the departure of Brooks, who we respect as a strong, capable leader, the JDCA hopes that this change in leadership will bring about a significant increase in cure research at Joslin.
Jeff Bright, "Joslin Diabetes Center Announces John Brooks Will Step Down as President and Chief Executive," Joslin News, Sep.8, 2015.
Priyanka Dayal McCluskey, "Former CEO shocked at ouster," Boston Globe, Sep. 9, 2015.